We're making improvements to our website, some of our pages are currently being updated. We apologise for any inconvenience caused.
Cycle Surgery @ Leicester Royal Infirmary
Find Dr Bike in Car Park B (opposite Nelson Mandela Park) for free cycle safety checks. For UHL and Leicestershire Partnership NHS Trust staff, but open to members of the public.
Get involved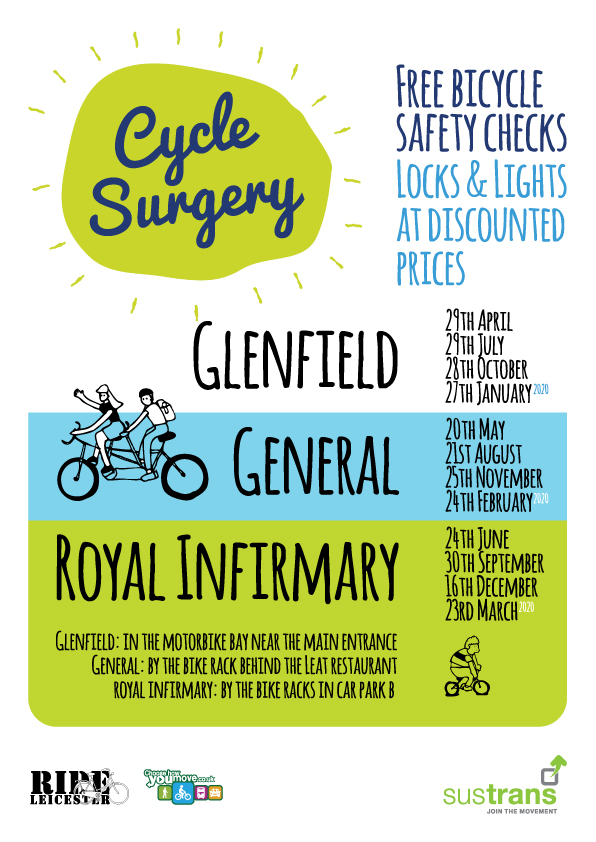 Map is loading...

24/01/2020 12:01pm
Is your child in years 7 – 9? Are they cycling independently, or do they want to and you are just not sure they have the skills to cycle on more complex roads - we can help! Follow this link to find out more about our free level 3 Bikeability training tjunction.org.uk/bikeability/

23/01/2020 3:27pm
Have you checked out our brand new website yet?✨ twitter.com/NeilDotObrien/…

22/01/2020 9:42am
Leicestershire County Council are looking for cycle trainers to deliver Bikeability – interested? - Follow this link for full details bit.ly/37b9bVy

21/01/2020 11:55am
The @RideLeicester crew will be at #LastFriday at @lcbdepot on Friday 31 Jan, bringing you FREE rickshaw rides around the Cultural Quarter! 🛺 🚲 twitter.com/leicesterfest/…

19/01/2020 12:43pm
Loving the smiles that riding the ebikes causes 🚲😁😁 @BeaumanorHall

Changing habits for a changing world