Ride Leicester Festival 2021
Join us this year throughout August for the Ride Leicester Festival – a celebration of all things cycling! Find out more about what's on below.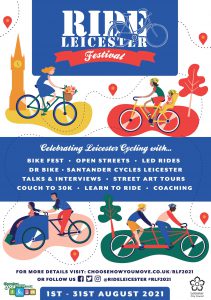 Events and activities 
Throughout, the festival we will be promoting a range of Led Rides. Whilst you are out on your rides, take a selfie along the route and upload them to your social media with the hashtag #RLF2021. 
There will be plenty of activities to get involved in and events to join including; Bike Fest, Open Streets, Street Art tours, Dr Bike and Led Rides. Head on over to our Events section to find out what's on.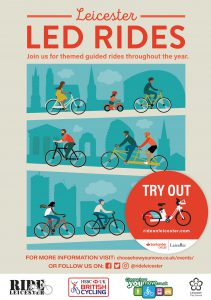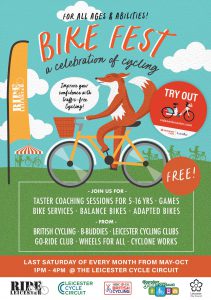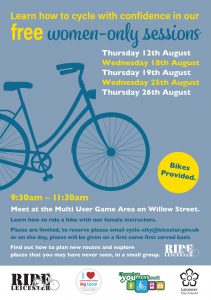 Exclusive talks and Interviews 
We will also be hosting a number of talks and interviews with special guests. Make sure to keep an eye out for announcements on the special guests.
We look forward to you seeing you out on the road and joining us online between 1st – 31st August for everything we have to offer. Follow us on Twitter and Facebook to keep up with the latest festival news! 
BID Leicester brings free e-bike rides 
Free rides on the city's e-bikes are being made available to help visitors discover the Rocket Round Leicester trail. Every Wednesday in August plus the last Sunday of the month, £5 worth of credit will be offered to the first 200 people to email Ride On customer services. Take a look at the calendar below for Wednesday August 11, 18 and 25, and Sunday August 29.
Ride Leicester Festival calendar – Summer of cycling 2021
Wednesday 18th August
Cycle City Site Tour

Rocket Around Leicester
St. Matthews Womens Cycle training sessions

 
Thursday 19th August
St. Matthews Womens cycle training sessions 
Wednesday 25th August
Cycle City Site Tour 

Rocket Around Leicester 

St. Matthews Women cycle training sessions 
Thursday 26th August
St. Matthews Womens Sessions 
Sunday 29th August
Open Streets 

Rocket Around Leicester 

BMX Nat Champs Huncote  

Leicester Wheels For All – Saffron Lane Session 

26/10/2021 5:29pm
Try #LeicsParkandRide crowd.in/lstVU4 to get to the #LCFC v #Arsenal #AFC game on Saturday. Free parking and all-electric buses every 15 minutes until 7pm. @LCFC @Arsenal

25/10/2021 5:36pm
We're always looking for ways to improve Leicester Park & Ride. Whether you're a regular user, occasional traveller or first-time user, we'd love to hear what you think of the service. Complete our short survey at crowd.in/S5NwlN

25/10/2021 4:29pm
If you're driving to the #LCFC v #Arsenal #AFC match on Saturday, a #LeicsParkandRide group ticket is just £3 for up to 5 people travelling in the same car. crowd.in/C9lx46 @LCFC @Arsenal

24/10/2021 12:43pm
Birstall Park & Ride service will be running from 4pm to Abbey Park Road today for the #DiwaliLeicester Switch On. Group tickets just £6 for up to 5 people travelling together in same car. Last bus back 10pm. crowd.in/zqPbat

24/10/2021 8:42am
Make your journey to today's #DiwaliLeicester Switch On easier by using the special Birstall Park & Ride service. Group tickets £6 for up to 5 people travelling together in same car. Last bus back 10pm. crowd.in/ys5j6s

Changing habits for a changing world