There are lots of events happening in Leicester and Leicestershire that you could take part in. Take a look at our upcoming events below. 
Our events are continually developing; let us know what would be useful for you.
Upcoming events
Group Walks: Green parks of northwest Leicester Tuesday 12 October Meeting near Beaumont Leys Library Around…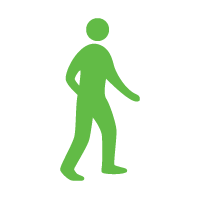 September 2021
Mon
Tue
Wed
Thu
Fri
Sat
Sun

30

31

1

2

3

4

5

6

7

8

9

10

11

12

13

14

15

1 events

Group Walks: William Flint Architecture in Leicester City Centre Wednesday 15 September at 11am Starting from…

16

17

18

19

20

21

1 events

Group Walks: Belgrave Hall to Watermead Country Park (return) September at 11am Meeting by the gates…

22

23

1 events

Walk on the Wild Side: Knighton Park Thursday 23 September at 10am Starting from the main…

24

25

1 events

Group Walks: Braunstone and Western Parks Saturday 25 September at 11am Starting from Braunstone Park's small…

26

1 events

Group Walks: Sculpture in the City stroll Sunday 26 September at 12.45pm Meeting by Richard III…

27

28

29

30

1

2

3

18/09/2021 7:05am
Don't worry about driving into the city, use #LeicsParkandRide for today's @LeicesterTigers v @ExeterChiefs game. Free parking and group tickets just £3 for up to five people travelling together in the same car. crowd.in/qradtk #Tigersfamily #exeterchiefs

17/09/2021 6:22pm
The Safer Streets Healthier Neighbourhoods team apologise for leaving the roadshow on Lockerbie Walk early on Friday 17th September. It was on police recommendation.

17/09/2021 4:04pm
LeicsParkandRide Enderby service 203 stops on Aylestone Road, just a short walk from the Mattioli Woods Welford Road stadium – and as it's electric-powered, it's the green way to travel! crowd.in/PuB5Nw #Tigersfamily #exeterchiefs @LeicesterTigers @ExeterChiefs

17/09/2021 3:59pm
Try #LeicsParkandRide to get to the @LeicesterTigers v @ExeterChiefs game on Saturday. Free parking and all-electric, zero emissions buses every 15 minutes. crowd.in/4jhV7G #Tigersfamily #exeterchiefs

17/09/2021 11:34am
🚶‍♂️🚲🚍Have you tried Leicester's Santander Cycle E-bike scheme…? You can sign-up to receive a £10 voucher by taking part in the Leicester East PTP survey. For more info visit: choosehowyoumove.co.uk/ptp-east/

Changing habits for a changing world