Leicester City Businesses
We're making improvements to our website, some of our pages are currently being updated. We apologise for any inconvenience caused.
Leicester City Businesses
The Walking & Cycling Team supports city businesses, who recognise the health, environmental and financial benefits of encouraging their staff to make commute and in-work journeys by active and sustainable transport, by offering a number of free initiatives. These include a Walking & Cycling Roadshow in the business and providing staff with personal travel plans.
Business can also apply for business travel grants of up to £5000. For more details on support available, see our Support Package.
For an example of how a local business has benefited from our offers see the case study below: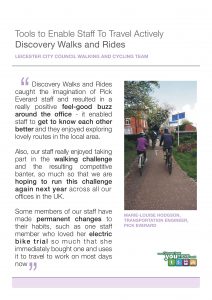 To find out more email Choose How You Move or call 0116 454 2820

19/01/2020 12:43pm
Loving the smiles that riding the ebikes causes 🚲😁😁 @BeaumanorHall

19/01/2020 10:24am
We are @BeaumanorHall come and try out our ebikes, could it be your new mode of travel? Plus we have lots of info to help you travel sustainably🏃‍♀️🚵‍♀️🚄🛴🛹

15/01/2020 10:44am
The work to tackle #inconsiderateparking around our #Leicester schools continues. Have you seen our CCTV car during the school run yet?🚗🧐 twitter.com/Leicester_News…

15/01/2020 10:26am
A brilliant start to the year, with a fantastic effort from parents at @fields_st 👏😃 #walkleicester twitter.com/fields_st/stat…

14/01/2020 11:45am
Are you in the loop? 🚶‍♂️🚲 Keep up to date on all things #walking and #cycling with our monthly #WalkLeicester and @RideLeicester newsletters 🗞 Sign up & receive them straight to your inbox! Sign up here 👉 bit.ly/CHYMnewsletters

Changing habits for a changing world