Leicester City Businesses
Leicester City Businesses
The Walking & Cycling Team supports city businesses, who recognise the health, environmental and financial benefits of encouraging their staff to make commute and in-work journeys by active and sustainable transport, by offering a number of free initiatives. These include a Walking & Cycling Roadshow in the business and providing staff with personal travel plans.
Business can also apply for business travel grants of up to £5000. Fill out our grant application form to apply. For more details on support available, see our Support Package.
For an example of how a local business has benefited from our offers see the case study below: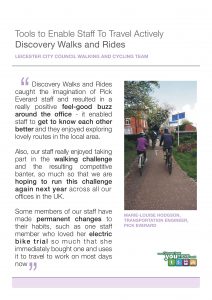 To find out more email Choose How You Move or call 0116 454 2820. 

02/04/2020 4:49pm
❗️There is now a Friday slot for FREE bike checks! Head down to the Asda car park on Abbey Lane and say hi to @soarvalleycycle who will check over your bike while you shop for those essentials! Head down tomorrow between 4-8pm 👇🚴‍♀️#Coronavirus #EssentialWorkers

02/04/2020 9:11am
❗️Essential workers, we are here to help! 🚲 If you could benefit from having a bike for your commute at this difficult time, please get in touch. We have a number of free bike loans available. Please share this across your workplace. Contact us via email, details below! 👇

01/04/2020 9:16am
❗️#KeyWorkers - Free bike checks at @EbikeCentres until 1pm today! Details below 👇 - @RideLeicester #BikeAid #Leicester #coronavirus twitter.com/CHYMLeics/stat…

30/03/2020 11:07am
❗️If you are a key worker and you are commuting by bike, we are offering FREE BIKE CHECKS over the next four weeks, courtesy of six local bike shops 🔧⛓ - Help us spread the word far and wide, share this post with key workers that you know!🚲 #COVID19 #KeyWorkers

30/03/2020 10:15am
Stuck for ideas for things to do in the house? Create a rainbow and put it in your window 🌈 See how many rainbows you can find on your next walk in your local area. Remember to only go out with others from your household and keep 2 metres apart! #RainbowWindow #SocialDistancing twitter.com/BTSLeicester/s…

Changing habits for a changing world