Leicester Open Streets
Leicester Open Streets is back this year! 
On the last Sunday of each month (May to September) from 1- 4pm for FREE, we will be opening the streets up for people to enjoy! Join us in the City Centre for lots of fun activities.
25th June 2023 – Family Ride
In June we feature our Family Ride, where we have led rides from all over the City converging on our Open Streets event! We have an array of fun activities planned for all including face painting, games, exhibitions, climbing wall, special bikes and entertainment.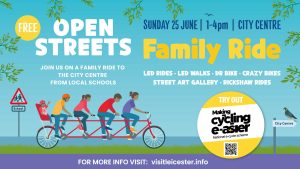 Led rides:
Greyfriars Townscape Heritage Initiative 
The £1.6million Greyfriars Townscape Heritage Initiative (THI), funded by the National Lottery Heritage Fund and Leicester City Council has successfully reached completion. This five-year project focused on buildings in the Greyfriars area and offered grants to property owners and businesses to help restore and regenerate the architectural heritage of Leicester's Old Town.
The wider Greyfriars THI project also included a range of events, including talks and walking tours, that attracted over 3,000 people. Read the full press release here.
The area's historical importance as Leicester's legal quarter was a key element of the project and a range of new resources can be found on the legacy website. 
Check out this video highlighting the successes of the Greyfriars Townscape Heritage Initiative.