Leicester Open Streets
Leicester Open Streets is back this year! 
On the last Sunday of each month (May to October) from 1- 4pm for FREE, we will be opening the streets up for people to enjoy! Join us in the City Centre for lots of fun activities.
This year we will have free, fun, family-friendly entertainment, interactive try-out's, games, walking and cycling tours. Further details are to be confirmed soon!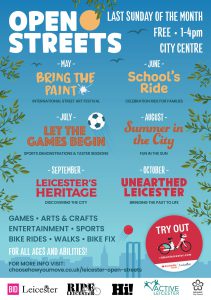 Bring the paint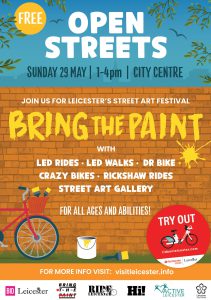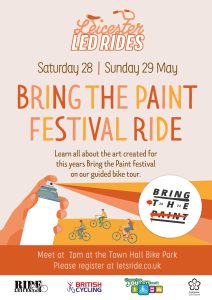 Greyfriars Townscape Heritage Initiative 
The £1.6million Greyfriars Townscape Heritage Initiative (THI), funded by the National Lottery Heritage Fund and Leicester City Council has successfully reached completion. This five-year project focused on buildings in the Greyfriars area and offered grants to property owners and businesses to help restore and regenerate the architectural heritage of Leicester's Old Town.
The wider Greyfriars THI project also included a range of events, including talks and walking tours, that attracted over 3,000 people. Read the full press release here.
The area's historical importance as Leicester's legal quarter was a key element of the project and a range of new resources can be found on the legacy website. 
Check out this video highlighting the successes of the Greyfriars Townscape Heritage Initiative.

02/07/2022 8:25am
Thank you to @DrNeilHumpage for travelling sustainably to the Watermead Park Run this morning! Here's your free goodie bag! 🏃‍♂️ 🚲

24/06/2022 1:37pm
Pre-driver Days are back for 2022! 9th August 2022 15th August 2022 17th October 2022 18th October 2022 @ Mallory Park Book through Eventbrite: eventbrite.co.uk/e/pre-driver-d… For further information please visit: tjunction.org.uk

24/06/2022 10:36am
For the next few hours are down at Glenfield Hospital with @SustransEMids 🚴‍♀️ and @leicspolice🚓. Come down and say hello and get a FREE bike checkup and a FREE bike marking. We Look forward to seeing you!🚲🚨

23/06/2022 10:01am
Remember, the best way to plan journeys by cycle, bike-share, walking and bus within Leicester and Leicestershire is the Choose How You Move Journey Planner. Try it out at choosehowyoumove.co.uk/journeyplanner, or search "Choose How You Move" in your app store!

16/06/2022 1:23pm
Don't forget to send a photograph of yourself holding one of the pledge cards available at cleanairday.org.uk Then post it on Twitter or Instagram using the hashtag #CleanAirDay tag @CHYM to be entered into a prize draw to win a goody bag 🚶‍♀️🚶🚴‍♀️🚴‍♂️

Changing habits for a changing world