BetterPoints
The Choose How You Move rewards challenge is powered by BetterPoints and allows you to earn points for walking, running and cycling. Track your journeys using the free BetterPoints app to earn points and redeem them for high street vouchers, or donate them to your favourite charity.
Earning BetterPoints is easy! Just download the free app from the App Store or Google Play. Sign up, choose an activity and start earning. Follow the instructions at the bottom of the page to get started. 
Find out how using the BetterPoints app has motivated people to become more active ​
Follow these instructions to download the BetterPoints app and start earning your BetterPoints today:
1. Download the BetterPoints app from the App Store or the Google Play Store.
2. Tap "Join Now" in the app and fill out the form.
3. You will be automatically added to the Choose How You Move challenge due to your postcode. There will be a welcome message about this on your timeline in the app.
4. Tap the Play ▶ button in the top right corner of the app. 
5. Track your activity via Automatic (always on) or Manual Tracking (when you want to track a specific activity.)
6. Start earning BetterPoints!
7. If you reside outside of Leicester and Leicestershire but are commuting in and would like to participate please contact customer care for a code to add you to the challenge: customercare@betterpoints.uk
Find out more about the Choose How You Move rewards challenge on the Better​Points app​​​.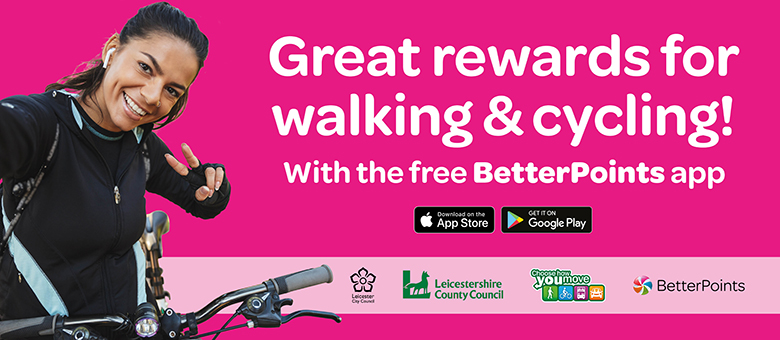 24/02/2021 3:57pm
On this #wellbeingwednesday why not take the time to head out on a walk?🚶‍♀️We have over 200 walking routes to choose from on our website, find them all here: choosehowyoumove.co.uk/walks/ Before you head out, make sure to download the @BetterPoints app & earn rewards for your walking!

22/02/2021 12:49pm
📢Are you, or someone you know, a #keyworker? Sign up to #santandercyclesleicester to register your interest in being the first to use the city's shiny new #ebikes to make essential journeys! 👉 Head to rideonleicester.com to get started! @RideLeicester @rideonleicester twitter.com/rideonleiceste…

17/02/2021 2:42pm
Did you know that you could earn rewards for your daily walking, running or cycling journeys using the FREE @BetterPoints app?🚶‍♀️🚴 Find out how @BetterPoints helped to keep Andrew @AnWiBu motivated in lockdown 👇🚲 choosehowyoumove.betterpoints.uk/page/betterpoi…

17/02/2021 12:14pm
The cycling and walking survey is still available for you to submit your views. Visit crowd.in/jo8eoA by the 10th march 2021.

16/02/2021 12:01pm
Another two happy members of our #Wheels2Work scheme who picked up their #ebikes last week 🚴‍♂️ Our Wheels to Work scheme offers a range of bikes, e-bikes & electric mopeds available for hire from £15 per month. See if you could benefit: choosehowyoumove.co.uk/cycling/wheels…