BetterPoints
The Choose How You Move rewards challenge is powered by BetterPoints and allows you to earn points for walking, running and cycling. Track your journeys using the free BetterPoints app to earn points and redeem them for high street vouchers, or donate them to your favourite charity.
Earning BetterPoints is easy! Just download the free app from the App Store or Google Play. Sign up, choose an activity and start earning. Follow the instructions at the bottom of the page to get started. 
Find out how using the BetterPoints app has motivated people to become more active ​
Follow these instructions to download the BetterPoints app and start earning your BetterPoints today:
1. Download the BetterPoints app from the App Store or the Google Play Store.
2. Tap "Join Now" in the app and fill out the form.
3. You will be automatically added to the Choose How You Move challenge due to your postcode. There will be a welcome message about this on your timeline in the app.
4. Tap the Play ▶ button in the top right corner of the app. 
5. Track your activity via Automatic (always on) or Manual Tracking (when you want to track a specific activity.)
6. Start earning BetterPoints!
7. If you reside outside of Leicester and Leicestershire but are commuting in and would like to participate please contact customer care for a code to add you to the challenge: customercare@betterpoints.uk
Find out more about the Choose How You Move rewards challenge on the Better​Points app​​​.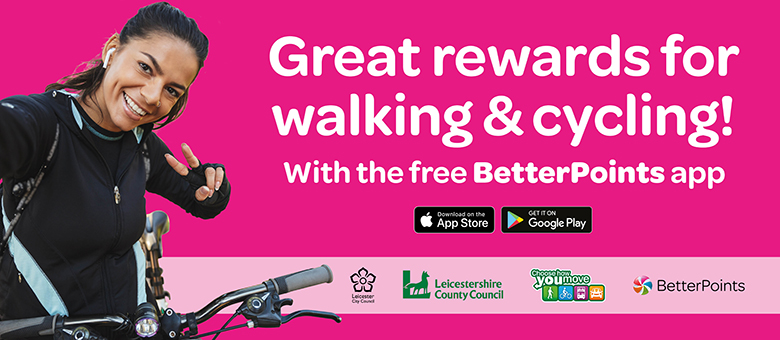 10/05/2021 1:57pm
Methodical footsteps on a pavement and a profound sense of progress. Walking as an activity really lends itself to music, and so for #WalkLeicesterFest we are trying to build the Ultimate Playlist of walking songs on Spotify! Put your best walking songs in the comments👇🎶

10/05/2021 6:15am
This week we are supporting Mental Health Awareness Week, for more info visit crowd.in/P1jaDz Research shows the positive link that being physically active can have on your mental health, can you travel actively to/from school to build active minutes into your day?

08/05/2021 9:00am
If you're thinking of going for a walk this Saturday, that's about 50% of the battle. Now for the other 50%! Lace up your shoes and have a look at choosehowyoumove.co.uk/walkleicester/ - check out some of our guided walks available to you this Saturday🚶 #WalkLeicesterFest

07/05/2021 4:39pm
💡Did you know that short walks every day have the potential to increase productivity by up to 30%? #FunFactFriday On your next short #walk, you can earn FREE points and prizes with the @Betterpoints app and DOUBLE points in May! 🚶‍♀️🚶‍♂️ More information: bit.ly/33tgWG8

07/05/2021 1:55pm
Walking noun "to move along by putting one foot in front of the other, allowing each foot to touch the ground before lifting the next" - Cambridge English Dictionary Sounds great, but we know walking means much more! What does it mean to you? Let us know👇 #WalkLeicesterFest