BetterPoints
The Choose How You Move rewards challenge is powered by BetterPoints and allows you to earn points for walking, running and cycling. Track your journeys using the free BetterPoints app to earn points and redeem them for high street vouchers, or donate them to your favourite charity.
Earning BetterPoints is easy! Just download the free app from the App Store or Google Play. Sign up, choose an activity and start earning. Follow the instructions at the bottom of the page to get started. 
Find out how using the BetterPoints app has motivated people to become more active ​
Follow these instructions to download the BetterPoints app and start earning your BetterPoints today:
1. Download the BetterPoints app from the App Store or the Google Play Store.
2. Tap "Join Now" in the app and fill out the form.
3. You will be automatically added to the Choose How You Move challenge due to your postcode. There will be a welcome message about this on your timeline in the app.
4. Tap the Play ▶ button in the top right corner of the app. 
5. Track your activity via Automatic (always on) or Manual Tracking (when you want to track a specific activity.)
6. Start earning BetterPoints!
7. If you reside outside of Leicester and Leicestershire but are commuting in and would like to participate please contact customer care for a code to add you to the challenge: customercare@betterpoints.uk
Find out more about the Choose How You Move rewards challenge on the Better​Points app​​​.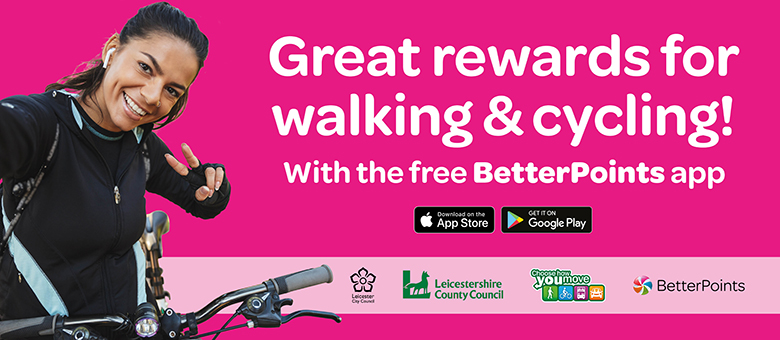 08/03/2021 4:42pm
For #InternationalWomensDay, we're celebrating the women cycling instructors, participants, ride leaders, teachers, air quality officers & many more! ♀️🌍 💫Check out our Women's Cycling webpage for points of interest for Women and cycling: choosehowyoumove.co.uk/womens-cycling/

08/03/2021 12:10pm
There is still time to have your say and complete the walking and cycling survey. Your thoughts will help us to understand what we can do to make it easier to walk and cycle. The survey will close on 14th March 2021. Visit crowd.in/0xANf7

05/03/2021 4:18pm
If you can't work from home, walking or cycling is a great way to start your day whilst being good for your mental and physical wellbeing. 🚴‍🛴 For top tips on how to make your commute easier visit crowd.in/UXJTuq

05/03/2021 11:11am
Check out this webinar TODAY at 4.30pm hosted by @SustransEMids International Women's Day Cycling Spotlight: Identities, Barriers & Freedoms Tickets here: tinyurl.com/dmh4frs5 Hear the speakers talk about how they overcame their own barriers & inspired others!

04/03/2021 11:23am
Check out this #HelmetHijabsAndHair video to find out how to take part in @SustransEMids' prize giving competition. To win, design a hair or Hijab style which can be worn with a bike helmet.🚴‍♀️😀 Good luck!🤞youtube.com/watch?v=s9Mf-h… #InternationalWomensDay