BetterPoints
The Choose How You Move rewards challenge is powered by BetterPoints and allows you to earn points for walking, running and cycling. Track your journeys using the free BetterPoints app to earn points and redeem them for high street vouchers, or donate them to your favourite charity.
Earning BetterPoints is easy! Just download the free app from the App Store or Google Play. Sign up, choose an activity and start earning. Follow the instructions at the bottom of the page to get started. 
Find out how using the BetterPoints app has motivated people to become more active ​
Follow these instructions to download the BetterPoints app and start earning your BetterPoints today:
1. Download the BetterPoints app from the App Store or the Google Play Store.
2. Tap "Join Now" in the app and fill out the form.
3. You will be automatically added to the Choose How You Move challenge due to your postcode. There will be a welcome message about this on your timeline in the app.
4. Tap the Play ▶ button in the top right corner of the app. 
5. Track your activity via Automatic (always on) or Manual Tracking (when you want to track a specific activity.)
6. Start earning BetterPoints!
7. If you reside outside of Leicester and Leicestershire but are commuting in and would like to participate please contact customer care for a code to add you to the challenge: customercare@betterpoints.uk
Find out more about the Choose How You Move rewards challenge on the Better​Points app​​​.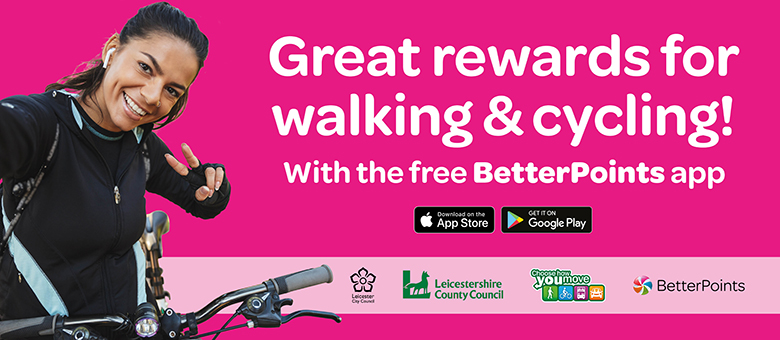 18/09/2021 7:05am
Don't worry about driving into the city, use #LeicsParkandRide for today's @LeicesterTigers v @ExeterChiefs game. Free parking and group tickets just £3 for up to five people travelling together in the same car. crowd.in/qradtk #Tigersfamily #exeterchiefs

17/09/2021 6:22pm
The Safer Streets Healthier Neighbourhoods team apologise for leaving the roadshow on Lockerbie Walk early on Friday 17th September. It was on police recommendation.

17/09/2021 4:04pm
LeicsParkandRide Enderby service 203 stops on Aylestone Road, just a short walk from the Mattioli Woods Welford Road stadium – and as it's electric-powered, it's the green way to travel! crowd.in/PuB5Nw #Tigersfamily #exeterchiefs @LeicesterTigers @ExeterChiefs

17/09/2021 3:59pm
Try #LeicsParkandRide to get to the @LeicesterTigers v @ExeterChiefs game on Saturday. Free parking and all-electric, zero emissions buses every 15 minutes. crowd.in/4jhV7G #Tigersfamily #exeterchiefs

17/09/2021 11:34am
🚶‍♂️🚲🚍Have you tried Leicester's Santander Cycle E-bike scheme…? You can sign-up to receive a £10 voucher by taking part in the Leicester East PTP survey. For more info visit: choosehowyoumove.co.uk/ptp-east/