BetterPoints
The Choose How You Move rewards challenge is powered by BetterPoints and allows you to earn points for walking, running and cycling. Track your journeys using the free BetterPoints app to earn points and redeem them for high street vouchers, or donate them to your favourite charity.
Earning BetterPoints is easy! Just download the free app from the App Store or Google Play. Sign up, choose an activity and start earning. Follow the instructions at the bottom of the page to get started. 
Find out how using the BetterPoints app has motivated people to become more active ​
Follow these instructions to download the BetterPoints app and start earning your BetterPoints today:
1. Download the BetterPoints app from the App Store or the Google Play Store.
2. Tap "Join Now" in the app and fill out the form.
3. You will be automatically added to the Choose How You Move challenge due to your postcode. There will be a welcome message about this on your timeline in the app.
4. Tap the Play ▶ button in the top right corner of the app. 
5. Track your activity via Automatic (always on) or Manual Tracking (when you want to track a specific activity.)
6. Start earning BetterPoints!
7. If you reside outside of Leicester and Leicestershire but are commuting in and would like to participate please contact customer care for a code to add you to the challenge: customercare@betterpoints.uk
Find out more about the Choose How You Move rewards challenge on the Better​Points app​​​.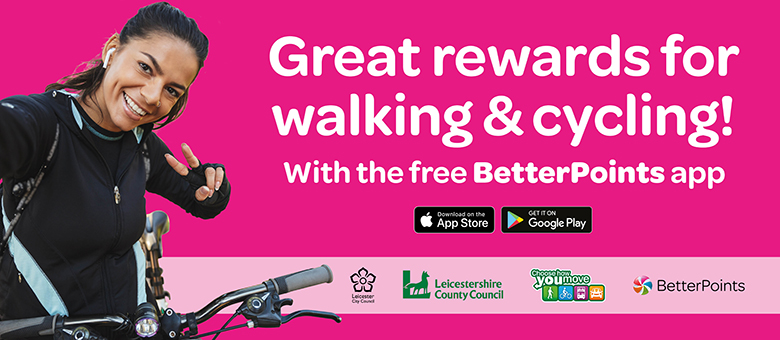 09/08/2022 7:10am
Phew what a scorcher ! Nice day though for some ebike training at @LeicsCountyHall . Our @CHYMLeics team are setting up , another twenty County residents on way to see how "wow" these bikes are ! Interested in a course ? Details here …. choosehowyoumove.co.uk/cycling/ebike/

04/08/2022 2:40pm
🚲We're now at the Leicester Bike Park, Thank you to everyone taking part 🎉🎉🎉#C2WDLeicester Take a look at the prize giveaway on offer for taking part today by visiting choosehowyoumove.co.uk/cycletoworkday/

04/08/2022 12:52pm
🚲Today is #CycletoWorkDay 🚲We've been at the LRI carrying out bike fix and marking. Thank you to everyone who attended 🎉🎉🎉#C2WDLeicester Take a look at the prize giveaway on offer for taking part today by visiting choosehowyoumove.co.uk/cycletoworkday/

29/07/2022 11:21am
✨Don't forget it is Cycle to Work Day next week, Thursday 4 August. Use the hashtag #C2WDLeicester and share your Cycle to Work Day route or picture to be in with a chance of winning a prize giveaway ✨For more information visit: choosehowyoumove.co.uk/cycletoworkday/

29/07/2022 6:37am
Today is the last day for registering your interest in being a volunteer for the #SchoolStreets trial! ⏳ Don't miss out! Get involved in reducing congestion and air pollution at school gates. crowd.in/bUSqir @ActiveLLR @LeicsCountyHall