Birstall Park & Ride – Service 303
P&R services at Enderby and Meynell's Gorse will resume from 1st June 2020. A range of measures will be in place to enable sites to reopen safely. Birstall remains closed until further notice.
Birstall Park & Ride – Service 303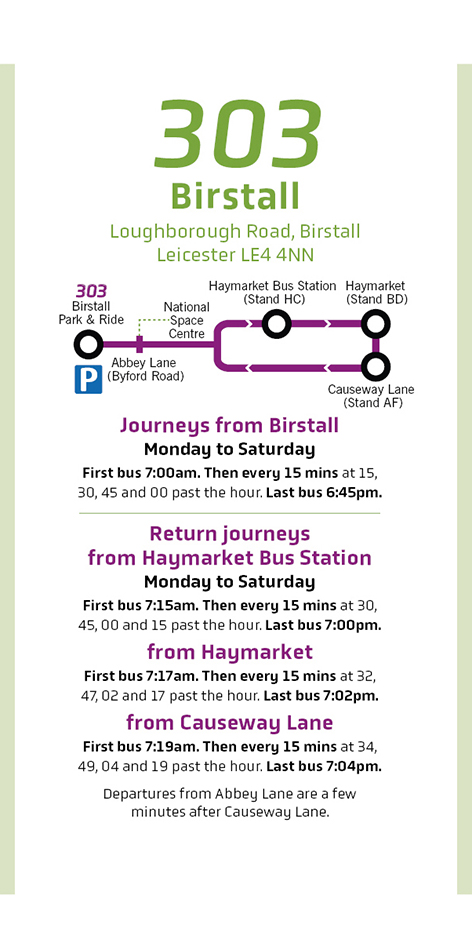 Opening times
Monday to Saturday 7am to 7pm.
Facilities
Free parking for bus service users only
Disabled spaces
On-site security & CCTV
On-site toilets and baby changing facilities
Covered waiting area
Low floor buses with wheelchair/buggy space
Free onboard WiFi
Bus stops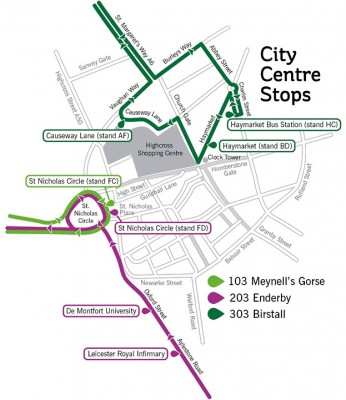 Services run every 15 minutes from 7am, and journey times are typically less than 20 minutes. Buses run direct to the city centre and stop at Haymarket (Clock Tower) and Causeway Lane, convenient for city centre businesses and shopping.
Park and Ride route information and timetable
Contact
Email: parkandride@leics.gov.uk
Telephone: Leicestershire County Council Customer Services: 0116 305 0002 
Map is loading...

12/08/2020 4:01pm
It's time to get out there and get active! 🏃‍♀️🚴‍♂️🚶‍♀️With the free #BetterPoints app you can earn points through physical activities and those points can be used to claim rewards. Find out here crowd.in/H8dq7l #getoutgetactive #activeleicestershire

12/08/2020 12:00pm
Do you enjoy walking or cycling? 🚴‍♂️🚶‍♀️ Did you know you could nominate a street to be widened to make more room for these activities? Visit crowd.in/BwQD03 to find out how #widenmypath #activeleicestershire

11/08/2020 11:00am
It doesn't matter how far or fast you go, running is a great way to relieve stress, improve your physical and mental health, get fresh air and enjoy nature #EnjoyOutdoors

11/08/2020 9:17am
We all know exercise is great for your mental and physical wellbeing! 🧘🏋️‍♂️ but did you know you with the free BetterPoints app you can turn activities into rewards? Find out more at crowd.in/ED5LdB #Betterpoints #activeleicestershire

07/08/2020 2:55pm
The weekend is going to be scorchio!! If you are out for cycle or a walk - don't forget that sunscreen folks 🌞🌞🌞 If you need some extra inspiration, plenty of local walking and cycling maps are available on our website: choosehowyoumove.co.uk

Changing habits for a changing world
Contact details
---
Park and Ride
0116 305 0002