Birstall Park & Ride – Service 303
We're making improvements to our website, some of our pages are currently being updated. We apologise for any inconvenience caused.
Birstall Park & Ride – Service 303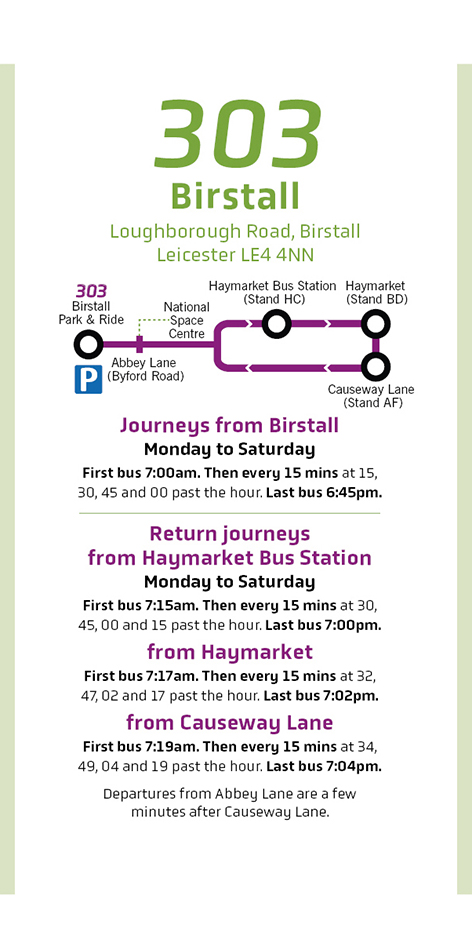 Opening times
Monday to Saturday 7am to 7pm.
Facilities
Free parking for bus service users only
Disabled spaces
On-site security & CCTV
On-site toilets and baby changing facilities
Covered waiting area
Low floor buses with wheelchair/buggy space
Free onboard WiFi
Bus stops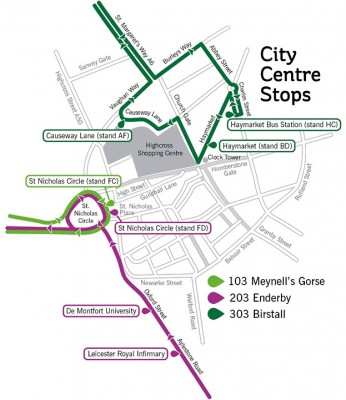 Services run every 15 minutes from 7am, and journey times are typically less than 20 minutes. Buses run direct to the city centre and stop at Haymarket (Clock Tower) and Causeway Lane, convenient for city centre businesses and shopping.
Park and Ride route information and timetable
Contact
Email: parkandride@leics.gov.uk
Telephone: Leicestershire County Council Customer Services: 0116 305 0002 
Map is loading...

19/01/2020 12:43pm
Loving the smiles that riding the ebikes causes 🚲😁😁 @BeaumanorHall

19/01/2020 10:24am
We are @BeaumanorHall come and try out our ebikes, could it be your new mode of travel? Plus we have lots of info to help you travel sustainably🏃‍♀️🚵‍♀️🚄🛴🛹

15/01/2020 10:44am
The work to tackle #inconsiderateparking around our #Leicester schools continues. Have you seen our CCTV car during the school run yet?🚗🧐 twitter.com/Leicester_News…

15/01/2020 10:26am
A brilliant start to the year, with a fantastic effort from parents at @fields_st 👏😃 #walkleicester twitter.com/fields_st/stat…

14/01/2020 11:45am
Are you in the loop? 🚶‍♂️🚲 Keep up to date on all things #walking and #cycling with our monthly #WalkLeicester and @RideLeicester newsletters 🗞 Sign up & receive them straight to your inbox! Sign up here 👉 bit.ly/CHYMnewsletters

Changing habits for a changing world
Contact details
---
Park and Ride
0116 305 0002