Birstall Park & Ride – Service 303
Birstall Park & Ride – Service 303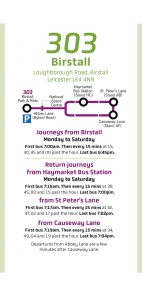 Opening times
Monday to Saturday 7am to 7pm.
Facilities
Free parking for bus service users only
Disabled spaces
On-site security & CCTV
On-site toilets and baby changing facilities
Covered waiting area
Low floor buses with wheelchair/buggy space
Free onboard WiFi
Bus stops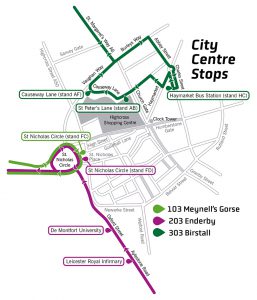 Services run every 15 minutes from 7am, and journey times are typically less than 20 minutes. Buses run direct to the city centre and stop at Haymarket Bus Station and Causeway Lane, convenient for city centre businesses and shopping.
Park and Ride route information and timetable
Contact
Email: parkandride@leics.gov.uk
Telephone: Leicestershire County Council Customer Services: 0116 305 0002 
Map is loading...

18/09/2021 7:05am
Don't worry about driving into the city, use #LeicsParkandRide for today's @LeicesterTigers v @ExeterChiefs game. Free parking and group tickets just £3 for up to five people travelling together in the same car. crowd.in/qradtk #Tigersfamily #exeterchiefs

17/09/2021 6:22pm
The Safer Streets Healthier Neighbourhoods team apologise for leaving the roadshow on Lockerbie Walk early on Friday 17th September. It was on police recommendation.

17/09/2021 4:04pm
LeicsParkandRide Enderby service 203 stops on Aylestone Road, just a short walk from the Mattioli Woods Welford Road stadium – and as it's electric-powered, it's the green way to travel! crowd.in/PuB5Nw #Tigersfamily #exeterchiefs @LeicesterTigers @ExeterChiefs

17/09/2021 3:59pm
Try #LeicsParkandRide to get to the @LeicesterTigers v @ExeterChiefs game on Saturday. Free parking and all-electric, zero emissions buses every 15 minutes. crowd.in/4jhV7G #Tigersfamily #exeterchiefs

17/09/2021 11:34am
🚶‍♂️🚲🚍Have you tried Leicester's Santander Cycle E-bike scheme…? You can sign-up to receive a £10 voucher by taking part in the Leicester East PTP survey. For more info visit: choosehowyoumove.co.uk/ptp-east/

Changing habits for a changing world
Contact details
---
Park and Ride
0116 305 0002