Birstall Park & Ride – Service 303
Birstall Park & Ride – Service 303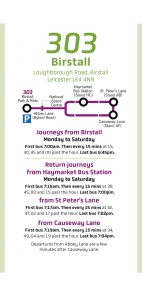 Opening times
Monday to Saturday 7am to 7pm.
Facilities
Free parking for bus service users only
Disabled spaces
On-site security & CCTV
On-site toilets and baby changing facilities
Covered waiting area
Low floor buses with wheelchair/buggy space
Free onboard WiFi
Bus stops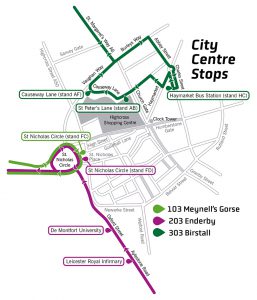 Services run every 15 minutes from 7am, and journey times are typically less than 20 minutes. Buses run direct to the city centre and stop at Haymarket Bus Station and Causeway Lane, convenient for city centre businesses and shopping.
Park and Ride route information and timetable
Contact
Email: parkandride@leics.gov.uk
Telephone: Leicestershire County Council Customer Services: 0116 305 0002 
Map is loading...

20/05/2022 9:54am
Thank you to all those who took part in Walk to School Week! 👣🚲🛴 Remember to keep going and continue to inspire others! If you would like to launch a park and stride scheme with your local school, please contact choosehowyoumove@leics.gov.uk #CHYM #WOW

19/05/2022 10:30am
✨Come and join the Canal & River Trust this Friday, 20 May 12-1pm to see the growing street art trail on the canal towpath throughout the city. Learn about street art culture and the artists behind the piece. Book your free place at bit.ly/cnlrtwlk✨

19/05/2022 8:12am
Happy 'Walk To School Week!!!' Another fab launch for @teamwaltham Many thanks to Waltham Village Hall for being an amazing 'Park and Stride' car park 🚗👣 #walktoschoolweek #parkandstride #community

19/05/2022 7:04am
There are many benefits of walking to school, these include improvements in mood and behaviour in children. Plus, it's is an easy way of increasing your child's activity 🚲🛴🚶‍♀️🚶‍♂️ Find out more here 👉 crowd.in/v9GWrF #CHYM #WOW

17/05/2022 4:12pm
✨Come and join the @CanalRiverTrust this Friday, 20 May 12-1pm to see the growing street art trail on the canal towpath throughout the city. Learn about street art culture and the artists behind the piece. Book your free place at choosehowyoumove.co.uk/walkleicester/…✨

Changing habits for a changing world
Contact details
---
Park and Ride
0116 305 0002