Birstall Park & Ride – Service 303
Birstall Park & Ride – Service 303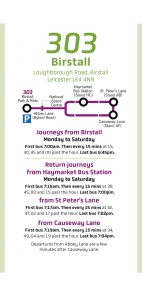 Opening times
Monday to Saturday 7am to 7pm.
Facilities
Free parking for bus service users only
Disabled spaces
On-site security & CCTV
On-site toilets and baby changing facilities
Covered waiting area
Low floor buses with wheelchair/buggy space
Free onboard WiFi
Bus stops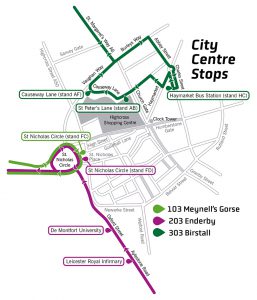 Services run every 15 minutes from 7am, and journey times are typically less than 20 minutes. Buses run direct to the city centre and stop at Haymarket Bus Station and Causeway Lane, convenient for city centre businesses and shopping.
Park and Ride route information and timetable
Contact
Email: parkandride@leics.gov.uk
Telephone: Leicestershire County Council Customer Services: 0116 305 0002 
Map is loading...

10/05/2021 1:57pm
Methodical footsteps on a pavement and a profound sense of progress. Walking as an activity really lends itself to music, and so for #WalkLeicesterFest we are trying to build the Ultimate Playlist of walking songs on Spotify! Put your best walking songs in the comments👇🎶

10/05/2021 6:15am
This week we are supporting Mental Health Awareness Week, for more info visit crowd.in/P1jaDz Research shows the positive link that being physically active can have on your mental health, can you travel actively to/from school to build active minutes into your day?

08/05/2021 9:00am
If you're thinking of going for a walk this Saturday, that's about 50% of the battle. Now for the other 50%! Lace up your shoes and have a look at choosehowyoumove.co.uk/walkleicester/ - check out some of our guided walks available to you this Saturday🚶 #WalkLeicesterFest

07/05/2021 4:39pm
💡Did you know that short walks every day have the potential to increase productivity by up to 30%? #FunFactFriday On your next short #walk, you can earn FREE points and prizes with the @Betterpoints app and DOUBLE points in May! 🚶‍♀️🚶‍♂️ More information: bit.ly/33tgWG8

07/05/2021 1:55pm
Walking noun "to move along by putting one foot in front of the other, allowing each foot to touch the ground before lifting the next" - Cambridge English Dictionary Sounds great, but we know walking means much more! What does it mean to you? Let us know👇 #WalkLeicesterFest

Changing habits for a changing world
Contact details
---
Park and Ride
0116 305 0002