Enderby Park & Ride – Service 203
Enderby Park & Ride – Service 203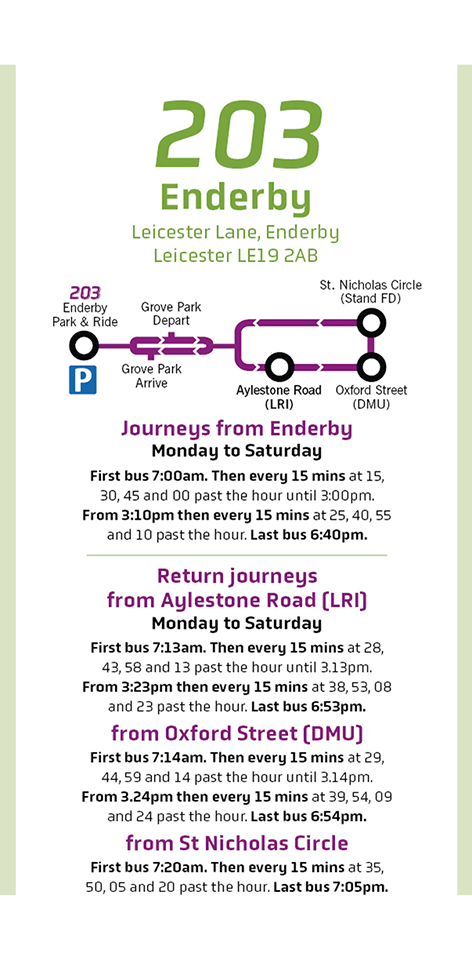 Opening times
Monday to Saturday 7am to 7pm.
Facilities
Free parking for bus service users only
Disabled spaces
On-site security & CCTV
On-site toilets and baby changing facilities
Covered waiting area
Low floor buses with wheelchair/buggy space
Free onboard WiFi
Bus stops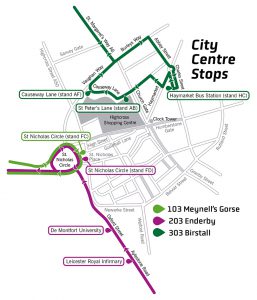 Services run every 15 minutes from 7am. Buses run to the city centre via Leicester Royal Infirmary, De Montfort University and St. Nicholas Circle, convenient for city centre businesses and shopping as well as the King Richard III Visitor Centre.
Please note that there is no overnight parking allowed at any of the Park & Ride sites. If you are attending the hospital for a procedure where you have been advised that there may be an overnight stay, please make alternative arrangements to get to the hospital or ensure your car is collected.
Park and Ride route information and timetable
Contact
Email: parkandride@leics.gov.uk
or telephone Leicestershire County Council Customer Services: 0116 305 0002 

08/03/2021 4:42pm
For #InternationalWomensDay, we're celebrating the women cycling instructors, participants, ride leaders, teachers, air quality officers & many more! ♀️🌍 💫Check out our Women's Cycling webpage for points of interest for Women and cycling: choosehowyoumove.co.uk/womens-cycling/

08/03/2021 12:10pm
There is still time to have your say and complete the walking and cycling survey. Your thoughts will help us to understand what we can do to make it easier to walk and cycle. The survey will close on 14th March 2021. Visit crowd.in/0xANf7

05/03/2021 4:18pm
If you can't work from home, walking or cycling is a great way to start your day whilst being good for your mental and physical wellbeing. 🚴‍🛴 For top tips on how to make your commute easier visit crowd.in/UXJTuq

05/03/2021 11:11am
Check out this webinar TODAY at 4.30pm hosted by @SustransEMids International Women's Day Cycling Spotlight: Identities, Barriers & Freedoms Tickets here: tinyurl.com/dmh4frs5 Hear the speakers talk about how they overcame their own barriers & inspired others!

04/03/2021 11:23am
Check out this #HelmetHijabsAndHair video to find out how to take part in @SustransEMids' prize giving competition. To win, design a hair or Hijab style which can be worn with a bike helmet.🚴‍♀️😀 Good luck!🤞youtube.com/watch?v=s9Mf-h… #InternationalWomensDay

Changing habits for a changing world
Contact details
---
Park and Ride
0116 305 0002