We're making improvements to our website, some of our pages are currently being updated. We apologise for any inconvenience caused.
Cycle Surgery @ The General Hospital
Find Dr Bike by the bike racks behind the L'Eat Restaurant for free cycle safety checks. For UHL and Leicestershire Partnership NHS Trust staff, but open to members of the public.
Get involved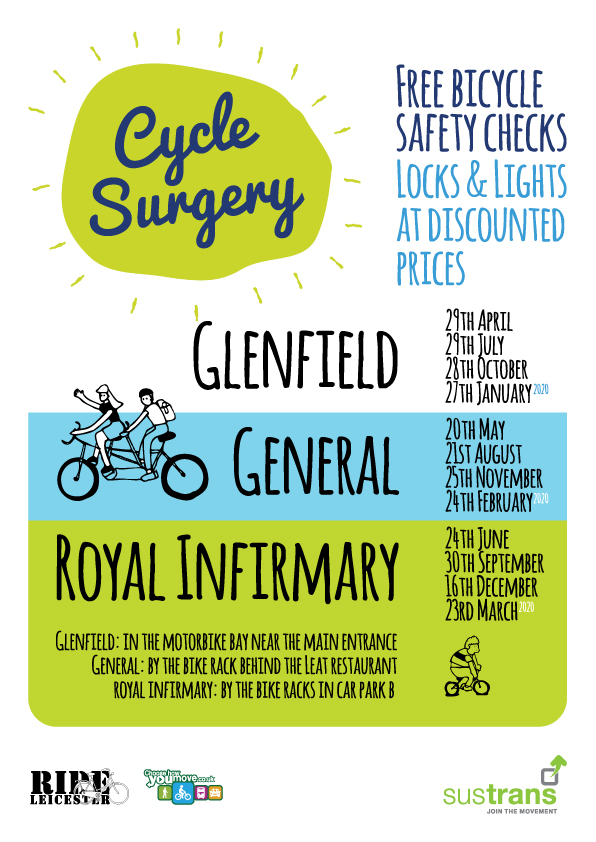 Contact details
Map is loading...

24/01/2020 12:01pm
Is your child in years 7 – 9? Are they cycling independently, or do they want to and you are just not sure they have the skills to cycle on more complex roads - we can help! Follow this link to find out more about our free level 3 Bikeability training tjunction.org.uk/bikeability/

23/01/2020 3:27pm
Have you checked out our brand new website yet?✨ twitter.com/NeilDotObrien/…

22/01/2020 9:42am
Leicestershire County Council are looking for cycle trainers to deliver Bikeability – interested? - Follow this link for full details bit.ly/37b9bVy

21/01/2020 11:55am
The @RideLeicester crew will be at #LastFriday at @lcbdepot on Friday 31 Jan, bringing you FREE rickshaw rides around the Cultural Quarter! 🛺 🚲 twitter.com/leicesterfest/…

19/01/2020 12:43pm
Loving the smiles that riding the ebikes causes 🚲😁😁 @BeaumanorHall

Changing habits for a changing world