Pop-up Cycling and Walking Lanes
Pop-up Cycling and Walking Lanes
Pop-up cycling lanes and widened pavements are being installed across Leicester and Leicestershire in response to the coronavirus restrictions. They will enable people to get around the city and county whilst protecting public transport for key workers and will support local businesses as lockdown restrictions are gradually eased. Find out the details of the current pop-up walking and cycling lanes on this page.
Would you like to nominate a street in Leicester and Leicestershire that would benefit from more space for walking or cycling? Add your ideas to the Widen My Path website and give the City Council and County Council evidence to make changes in your area.  
To comment on the existing pop-up infrastructure please use the Sustrans Space to Move website and map.
More information about Leicester City scheme and FAQs are available on the Leicester City Council website. More information about the Leicestershire County scheme and FAQs are available on the Leicestershire County Council website.
Leicester City and Leicestershire County Pop-up Cycling and Walking Lanes
Leicester's Cycling Tube Map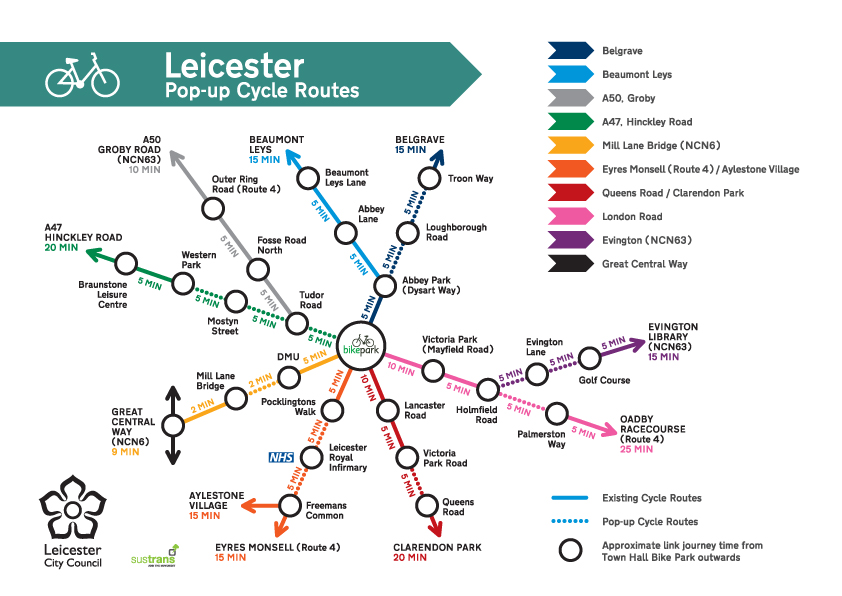 We have created this tube-style map of the latest pop-up routes in Leicester City. Click on the image for more information. 
Braunstone Lane East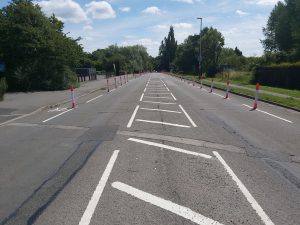 The cycle lanes on Braunstone Lane East between the entrance to Ellesmere College and Aylestone Playing Fields have been separated from traffic with wands.
Evington Lane
The existing cycle lane on Evington Lane between Wakerley Road (A6030) and Main Street has been demarcated with "wands" to protect cyclists. 
Evington Road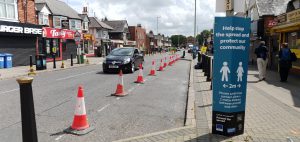 Pavements have been widened on Evington Road, between East Park Road and Conway Road. This will help people to maintain social distancing whilst shopping. 
Beaumont Leys Lane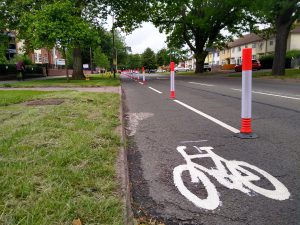 A new pop-up cycle lane has been provided on the outbound side of Beaumont Leys Lane between Abbey Lane and the Krefeld Way roundabout. Vertical 'wands' will protect cyclists going up-hill on Beaumont Leys Lane.
Hinckley Road (updated)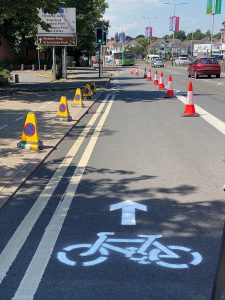 Temporary cones and traffic signs have been put in place to designate pop-up cycle lanes on Hinckley Road.
The outbound coned-off route on Hinckley Road starts near Dulverton Road and runs to Frampton Avenue. From Frampton Avenue to the Hinckley Road entrance to Western Park, wide pavements have become shared use for pedestrians and cyclists.
The inbound route starts from Western Park Railway Bridge and ends at St Nicholas Circle in the city centre, linking into the existing city centre infrastructure.
Green Lane Road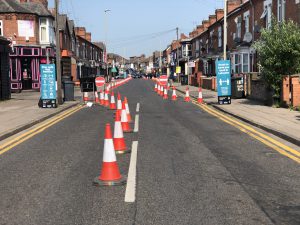 Green Lane Road has been made one-way between Mere Road and East Park Road. Pavements have been widened outside of local shops using cones, which will later be replaced by vertical wands.
Aylestone Road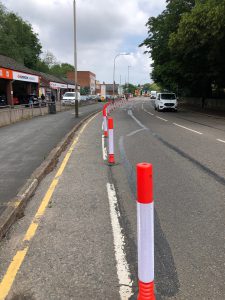 Vertical 'wands' – which stop vehicles from straying into or parking over cycle lanes – have been installed in both directions on Aylestone Road between Grace Road and Granby Primary School.
Granby Street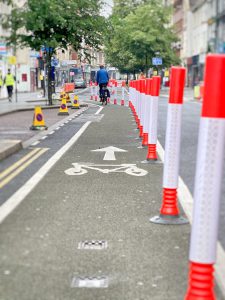 Pavements have been widened by removing some parking spaces to enable social distancing as businesses start to reopen. The existing cycle lane has been demarcated using traffic cones before vertical wands are installed to prevent vehicles from parking on it.
Mill Lane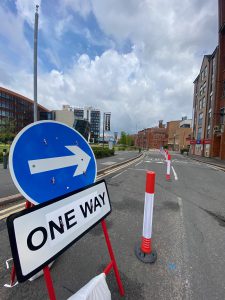 A temporary one-way road system and a two-way cycle route has been installed on Mill Lane. Traffic can access Mill Lane and Grasmere Street from Western Boulevard and Jarrom Street.
Braunstone Gate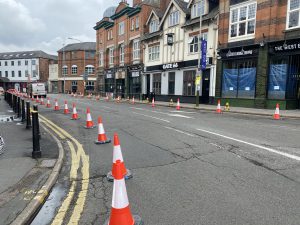 A pop-up "Mini Holland" has been installed at Braunstone Gate which gives more priority to cycles and pedestrians. Pavements have been widened by removing on-street parking.
Businesses will also be able to apply for street cafe licenses and outside seating areas.
Access into Braunstone Gate from Duns Lane and New Parks Street has been restricted to buses, taxis and cycles only. The left turn from Western Boulevard into Braunstone Gate has been removed except for cycles.
Belgrave Road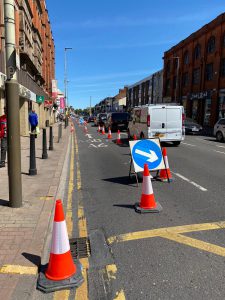 Pavements have been widened on both sides of Belgrave Road between its junction with Abbey Park Street and its junction with Loughborough Road. This will enable social distancing outside of local shops.
Abbey Park Road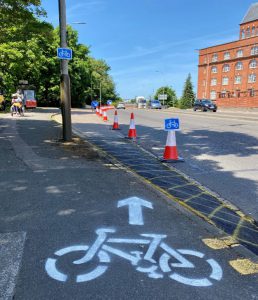 A pop-up cycle track has been installed on Abbey Park Road from Belgrave Circle to the entrance to Abbey Park, to create a safer, wider route for commuters and visitors alike.
Saffron Lane
A two-way cycle route has been installed on Saffron Lane between Aylestone Road and Hawkins Road, using the outbound bus lane. Bus stops at either end of the cycle lane will remain in use.  Combined with the temporary cycling route along part of Aylestone Road, there is now a one-kilometre safe route linking Saffron Lane and Aylestone with the city centre.
Aylestone Road Key Worker Corridor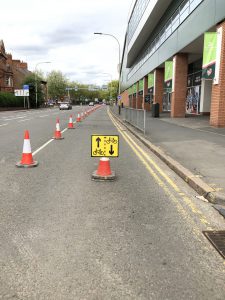 A temporary cycle lane has been installed on Aylestone Road between its junction with Almond Road and its junction with Welford Road, outside the Tigers rugby ground. The route will help link up existing cycling tracks around Freemans Common with the cycle lanes on Welford Road.
London Road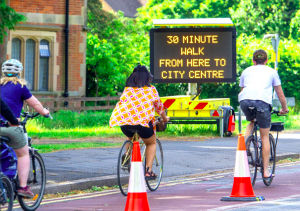 There is a temporary cycle route on London Road inbound between Shanklin Drive and Victoria Park Road.
Queens Road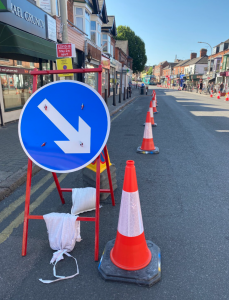 The footpath on Queens Road has been widened outside local shops to make social distancing easier when non-essential shops begin to open.
Pocklingtons Walk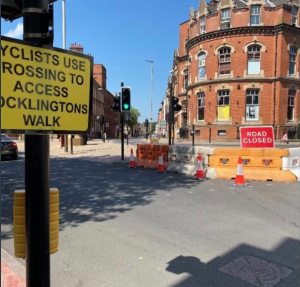 Motor vehicles can no longer turn right from Belvoir Street into Pocklingtons Walk to prioritise cyclists and pedestrians. Cyclists and pedestrians can still access Pocklingtons Walk via the crossing.