FLEXI Bus fares and tickets
New discounted Flexi tickets are now available for school children. These are now also available to purchase on mobile phone apps.
FLEXI Bus fares and tickets
FLEXI Bus Tickets
These give unlimited travel on any bus service in Leicester run by these bus companies:
You can use your Flexi ticket anywhere in the Flexi zone – check with the operator of your service or refer to our map below to see where the Flexi ticket can be used.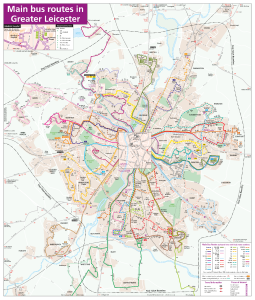 Main Bus Routes in Greater Leicester Map (PDF, 527 KB)
Greater Leicester Bus map with bus timetables (PDF, 2 MB)
Please note that Flexi tickets can not be used or sold on park and ride routes 103, 203 and 303 operated by Roberts Travel Group on behalf of Leicestershire and Leicester City Councils.
Where to buy
A range of tickets is available for different age groups.
For part-time commuters, we have recently introduced a new '3-days in 7' ticket!
This lets you use the ticket on ANY three days in a given calendar week. This ticket is only available on participating operator mobile phone apps.
On your mobile phone
Buy the full range of Flexi tickets through participating operator's apps – buy on any app, use on any operator in the scheme. 
On the bus
Buy daily and weekly tickets on board from any participating operator. All operators accept contactless payments for your safety and security. 
Ticket prices – Valid from January 31st 2022
| | | | |
| --- | --- | --- | --- |
|   | Adult price | Child price | Student |
| Daily | £5.00 | £4.00 | n/a |
| Weekly | £19.50 | £14.00 | n/a |
| 3 days in 7  | £14.00 | n/a | n/a |
| 4 Weekly | £63.50 | £55.00 | n/a |
| Year | £627.00 | £462.00 | £478.50 |
| Academic Year* | n/a | £440.00 | £450.00 |
| Single term* | n/a | £195.00 | £205.00 |
Child tickets are available to customers aged 15 and under.
To purchase student tickets, 16 & 17 year olds will be required to show proof of D.O.B i.e a birth certificate or passport. 18 years old and above will require a valid student ID.
Still have a OneCard? Find out more here. 
Other multi-journey saver tickets
All commercial bus operators in Leicester & Leicestershire offer a range of multi-journey saver tickets. Please ask the bus driver or search online for the relevant operator's website for full details.
Saver tickets are also available to buy from the driver on the following Council-subsidised local bus services:
Leicester Park & Ride (Birstall, Enderby, Meynell's Gorse)
PLUSBUS
PLUSBUS is a cheap bus pass that you buy with your train ticket at any National Rail station ticket office or online. It gives you unlimited bus and tram travel (on participating operators services) to and from the rail station and around the whole urban area of the rail served town.
Buy one for the start of your journey and/or for the end of it.

02/07/2022 8:25am
Thank you to @DrNeilHumpage for travelling sustainably to the Watermead Park Run this morning! Here's your free goodie bag! 🏃‍♂️ 🚲

24/06/2022 1:37pm
Pre-driver Days are back for 2022! 9th August 2022 15th August 2022 17th October 2022 18th October 2022 @ Mallory Park Book through Eventbrite: eventbrite.co.uk/e/pre-driver-d… For further information please visit: tjunction.org.uk

24/06/2022 10:36am
For the next few hours are down at Glenfield Hospital with @SustransEMids 🚴‍♀️ and @leicspolice🚓. Come down and say hello and get a FREE bike checkup and a FREE bike marking. We Look forward to seeing you!🚲🚨

23/06/2022 10:01am
Remember, the best way to plan journeys by cycle, bike-share, walking and bus within Leicester and Leicestershire is the Choose How You Move Journey Planner. Try it out at choosehowyoumove.co.uk/journeyplanner, or search "Choose How You Move" in your app store!

16/06/2022 1:23pm
Don't forget to send a photograph of yourself holding one of the pledge cards available at cleanairday.org.uk Then post it on Twitter or Instagram using the hashtag #CleanAirDay tag @CHYM to be entered into a prize draw to win a goody bag 🚶‍♀️🚶🚴‍♀️🚴‍♂️

Changing habits for a changing world