What can I use my OneCard for?
You can use your OneCard for Leicester Flexi Weekly bus passes or for membership and period passes at the Town Hall Bike Park. The bus operators currently participating in the Flexi scheme are Arriva, First, Centrebus, Hinckleybus, Kinchbus and Stagecoach. The Flexi Weekly pass costs £20 and allows unlimited travel across participating operators in the Flexi zone.
How do I use my OneCard?
When you receive your card you will need to top it up in order to travel or take advantage of discounted Bike Park membership.
Top up your OneCard with a Flexi Weekly pass on participating buses, which travel to, from, or within Leicester's Flexi zone. You can buy multiple weekly top-ups for future use.
For Bike Park membership, top up your OneCard when you visit the Town Hall Bike Park.
You can get a OneCard from the following Payzone outlets:
Windmill Stores, 45 Windmill Avenue, Birstall
Nook Agency, 46 Charles Street, Leicester
Qwik News, 1 Home Farm Square, Beaumont Leys
Beaumont News, 222 – 224 Astill Lodge, Leicester
J Scattergoods & Sons, 37 Sharman Crescent, Leicester
KGN News, 52 Charles Street, Leicester
Krishman News, St Margaret's Bus Station
BS Off Licence, 80 Granby Street, Leicester
News Centre, 43 Horsefair Street
Kirti Ltd, 35 High Street, Leicester.
Cards are also available from the information point at Haymarket Bus Station.
Topping up is available on participating buses and at all 200+ payzone outlets in Leicestershire. For the £20 Leicester flexi weekly tickets, you can also buy multiple weekly top-ups for future use. You will be issued with a receipt when topping up.
Using your card
Touch your card onto the card reader on the ticket machine, and hold it briefly to allow the machine to recognise and approve it.
If your card fails, this may be due to a faulty card or a fault in the card reader. You can get your card checked at any City Customer Service Centre. If your card is faulty it will be replaced. For the time being, faulty cards will still be accepted for travel, but they should be changed at the earliest opportunity.
Cards that have been reported lost or stolen cannot be used. Any reported lost or stolen cards will be kept by the driver and returned to the appropriate council to prevent fraudulent use.
This new system will also identify forged passes which will also be kept and withdrawn, and the report on their use submitted to the issuing council, for further action.
The OneCard is a Leicester and Leicestershire brand and concessionary users do not need to apply for a new card – just use the old one in a new way
Lost or stolen cards
If your card is lost or stolen please report it via your online account and a replacement will be sent to you.
The old card will be blocked from use and the new card will be sent out to you with any remaining credit still valid.
Concessionary passes
There are no changes for customers of the English National Concessionary Travel Scheme as a result of OneCard. 
Attachments: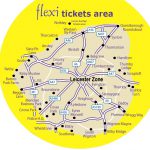 Click to view the Flexi tickets area