Switch off your engine for cleaner air
Switch off your engine for cleaner air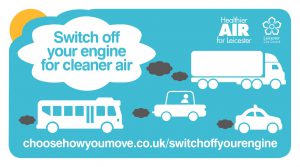 The 'Switch off your engine for cleaner air' campaign aims to encourage drivers in Leicester to avoid idling vehicles, wherever possible, to reduce vehicle emissions and tackle unnecessary air pollution. 
What is idling? 
Idling is leaving the engine running when your vehicle is stationary (i.e. parked or waiting).
Do not idle, whenever it is safe and possible to do so.
'The Highway Code (rule 123) states: You MUST NOT leave a parked vehicle unattended with the engine running or leave a vehicle engine running unnecessarily while that vehicle is stationary on a public road'.
Why tackle idling? 
One minute of vehicle idling produces enough toxic emissions to fill 60 people's lungs.
People inside vehicles are exposed to higher levels of air pollution.
Excessive idling is a waste of fuel and money.
Children and the elderly are at greater risk from air pollution and the impact of air pollutants to health.
What you can do to help?
Don't leave an unattended vehicle's engine running.
Don't leave the engine running in the depot.
Don't leave the engine running when you are parked up, waiting or when you're on a break.
Don't leave the engine running during loading and unloading.
If you anticipate being stationary for more than one minute, switch off your engine as soon as the vehicle has stopped.
Idling vehicles outside of schools is recognised as one of the biggest contributors to air pollution around schools. The aim of this campaign is to engage with drivers in Leicester and encourage them to switch off their vehicle's engine when dropping off or waiting near a school. Our promotional resources, events and activities are designed so that your school can run the campaign, with the support of Leicester City Council. 
Find out more about the 'Switch off your engine for cleaner air' campaign and the resources and activities that are available on the Schools' Extranet.