Free Bike Check and Travel Advice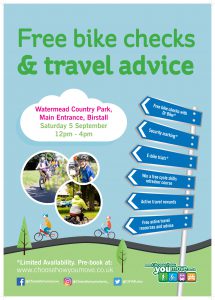 Get involved
Come and see the CHYM team between 12pm-4pm to find out how we can support your active travel. Collect your bag of travel resources from our stand or why not book your Free bike health check with Dr Bike or have a whiz around on one of our E-Bikes!
Anyone registering in advance for Dr Bike, E-bike Trial or the Free bike skills refresher course will be entered into a prize draw to win a goody bag!
Register your interest in advance by emailing ChooseHowYouMove@leics.gov.uk or speak to us on the day to win a FREE bike skills refresher course. One of our friendly qualified instructors will contact you to arrange a free refresher session for you and up to three other people,including children.The session will include bike checks,clothing and helmet fitting ,journey planning advice,cycling tips and helpful hints  and a bespoke skills session based on your experience and requirements !!
Contact details
If you have any questions about the event please email ChooseHowYouMove@leics.gov.uk
Or telephone 0116 3057233
How to book
To book a time slot for Dr Bike or an E-Bike trial please email ChooseHowYouMove@leics.gov.uk stating the event location and activity that you would like to book.
Look forward to seeing you there
CHYM Team
Map is loading...

18/09/2020 11:20am
Tomorrow is our final active travel afternoon! FREE bike checks, security marking, e-bike trials, active travel rewards and travel advice are just some of the exciting activities at Welland Park, Market Harborough, 12-4pm. Pre-book for some activities at crowd.in/WDsM8z

16/09/2020 2:08pm
Great to see our @RideLeicester bike locks being used at our independent coffee shops in #Leicester ☕️ Stop for a coffee in Leicester and park your bike securely with our #StopAndLock. See a full list of participating coffee shops over on our website: choosehowyoumove.co.uk/stopandlock/ twitter.com/leicestercoffe…

16/09/2020 11:53am
Win a free cycle skills refresher course at Saturday's active travel afternoon at Welland Park, Market Harborough,12-4pm. Free bike checks, travel advice and more. Visit crowd.in/7OM3UI find out about all the other exciting things going on and to book some activities.

15/09/2020 9:15am
Join us on Saturday at Welland Park in Market Harborough, where you can find loads of travel advice, cycling & walking maps, active travel rewards, free bike checks and much more to help you get travelling in a smarter way around Leicestershire. Visit crowd.in/WYIViX

14/09/2020 2:02pm
If you're a cyclist or thinking of taking it up, don't miss the last of our FREE active travel afternoons, which takes place on Saturday at Welland Park in Market Harborough from 12-4pm. Free bike checks, travel advice and much more. More information at crowd.in/R6SljK

Changing habits for a changing world