Group Walks: A brief history of Chapels in Leicester
Group Walks: A brief history of Chapels in Leicester
Tuesday 2 November at 11am
Starting by the Robert Hall statue on De Montfort Square, De Montfort Street.
Up to 90 minutes, steady pace
Join us for a group walk that will pass statues, chapels and other buildings which reveal the history of the non-conformist denominations of the Christian faith in Leicester. At just over 1 mile, this is one our short walks led at a steady pace, with information stops along the way. Booking essential.
This walk is free to attend, but numbers are limited. For full details about this walk, click 'Book your space' below to visit Eventbrite or book by phone during office hours.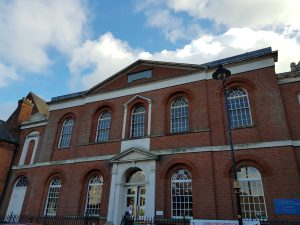 Map is loading...

26/10/2021 5:29pm
Try #LeicsParkandRide crowd.in/lstVU4 to get to the #LCFC v #Arsenal #AFC game on Saturday. Free parking and all-electric buses every 15 minutes until 7pm. @LCFC @Arsenal

25/10/2021 5:36pm
We're always looking for ways to improve Leicester Park & Ride. Whether you're a regular user, occasional traveller or first-time user, we'd love to hear what you think of the service. Complete our short survey at crowd.in/S5NwlN

25/10/2021 4:29pm
If you're driving to the #LCFC v #Arsenal #AFC match on Saturday, a #LeicsParkandRide group ticket is just £3 for up to 5 people travelling in the same car. crowd.in/C9lx46 @LCFC @Arsenal

24/10/2021 12:43pm
Birstall Park & Ride service will be running from 4pm to Abbey Park Road today for the #DiwaliLeicester Switch On. Group tickets just £6 for up to 5 people travelling together in same car. Last bus back 10pm. crowd.in/zqPbat

24/10/2021 8:42am
Make your journey to today's #DiwaliLeicester Switch On easier by using the special Birstall Park & Ride service. Group tickets £6 for up to 5 people travelling together in same car. Last bus back 10pm. crowd.in/ys5j6s

Changing habits for a changing world