Group Walks: Glenfield Tunnel – Over The Top
Group Walks: Glenfield Tunnel – Over The Top
Tuesday 19 October at 11am
Starting from the footpath off the A50 leading to Jowett Close. The path is opposite Gilroes Cemetery.
Up to 2 hours, medium pace
Tucked away on West Leicester's modern residential roads is evidence of Leicester's first steam railway. Join us as we take a circuitous route through Glenfield, tracing some of the surface-level ventilation shafts which mark the line of the historic Glenfield tunnel. We then take a footpath to the tunnel entrance, now closed. (The tunnel itself will not be open for this walk). Along the way our walk leader will talk about the Leicester to Swannington railway – from its beginnings to its closure – and about the Glenfield tunnel. At just under 4 miles, this is one of our longer walks led at a medium pace. Booking is essential as places are limited. Please note no public toilets are available on this walk. The A50 is served by buses. To help plan your journey, visit the Choose How You Move journey planner.
This walk is free to attend, but numbers are limited. For full details about this walk, click 'Book your space' below to visit Eventbrite or book by phone during office hours.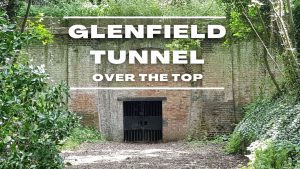 Contact details
For group walk enquiries (Monday – Friday) please contact:
Telephone: 0116 373 7589
Email: choosehowyoumove@leicester.gov.uk
Our phone line is answered Monday to Friday, 9am – 5.30pm, and we are happy to help within these hours. We regret the line is not staffed at weekends or bank holidays. Thank you.
How to book
Booking is essential. This short walk is free to attend, but numbers are limited so please book via Eventbrite or by phone to secure your place when booking has opened. 
For full details about this walk, click 'Book your space' below to visit Eventbrite.
Cancellations
If you are no longer able to attend, please cancel your place via Eventbrite or contact us by phone (during office hours) to cancel your place so we can allow others the opportunity to attend. Thank you in advance.
Map is loading...

02/07/2022 8:25am
Thank you to @DrNeilHumpage for travelling sustainably to the Watermead Park Run this morning! Here's your free goodie bag! 🏃‍♂️ 🚲

24/06/2022 1:37pm
Pre-driver Days are back for 2022! 9th August 2022 15th August 2022 17th October 2022 18th October 2022 @ Mallory Park Book through Eventbrite: eventbrite.co.uk/e/pre-driver-d… For further information please visit: tjunction.org.uk

24/06/2022 10:36am
For the next few hours are down at Glenfield Hospital with @SustransEMids 🚴‍♀️ and @leicspolice🚓. Come down and say hello and get a FREE bike checkup and a FREE bike marking. We Look forward to seeing you!🚲🚨

23/06/2022 10:01am
Remember, the best way to plan journeys by cycle, bike-share, walking and bus within Leicester and Leicestershire is the Choose How You Move Journey Planner. Try it out at choosehowyoumove.co.uk/journeyplanner, or search "Choose How You Move" in your app store!

16/06/2022 1:23pm
Don't forget to send a photograph of yourself holding one of the pledge cards available at cleanairday.org.uk Then post it on Twitter or Instagram using the hashtag #CleanAirDay tag @CHYM to be entered into a prize draw to win a goody bag 🚶‍♀️🚶🚴‍♀️🚴‍♂️

Changing habits for a changing world