The Evington Scheme
A Safer Streets Healthier Neighbourhood is a Leicester project designed to discourage people from using local residential streets as shortcuts, reduce speeding and minimise congestion. In a Safer Streets Healthier Neighbourhood, motor vehicles are discouraged by road closures and one-way streets, while pedestrians and cyclists are unaffected. The closures are created by the installation of planters that can be moved (or removed) as we learn how they affect traffic movements.
The main principle is that every resident will be able to drive onto their street/access their home, and receive visitors and deliveries, but it will be harder for people to drive straight through from one main road to another (for example, from Goodwood Road to Spencefield Lane via Davenport Road). Emergency services, delivery vehicles, disabled vehicle users
and refuse vehicles will still be able to access properties within the scheme area. Once the traffic measures are in place, some local car journeys may take a little longer. However, for many people, this inconvenience is far outweighed by having a safer and healthier neighbourhood with cleaner air in which to live in.
Greystone Avenue
The Greystone Avenue proposal will no longer be a full closure. Only the entrance from Uppingham Road into Greystone Avenue will be closed to vehicles. You will still be able to exit Greystone Avenue onto Uppingham Road.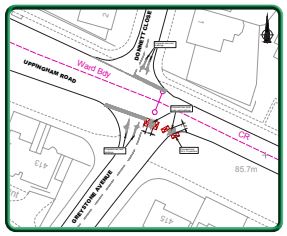 Davenport Road
Following feedback from residents, a modification order has been made to the principal experimental traffic order. The location of the road closures on both Davenport Road and Newhaven Road have been changed and the closure on Oakside Crescent is therefore not needed. The Authority has agreed to introduce a new prohibition of driving in both directions, 'road closures' are to be introduced on the following roads: Davenport Road, 35 metres south-east of its junction with Withcote Avenue; Newhaven Road 25 metres south-west of its junction with Chatteris Avenue. These are to reduce through traffic whilst allowing access to residents and businesses in the area.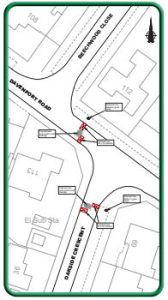 Newhaven Road
The Newhaven Road closure will be moved to just south of its junction with Chatteris Avenue. This leaves the junction with Chatteris Avenue to turn in North of the closure, and the turning head outside number 24 Newhaven Road to turn in South of the closure.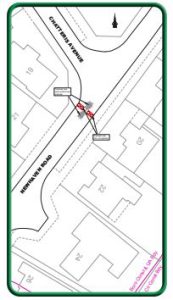 Mickleton Road
Mickleton Avenue closure is being removed from the scheme. However, to reduce parking on the grass verges on Whitehall Road, low wooden fences will be installed.
Gamel Road
The proposed one-way on Gamel Road remains as a one-way from Davenport Road to Skampton Road.
Downing Drive and Chatteris Avenue
In response to concerns about parking on the grass verges in the area, low wooden fences will be installed on some sections of Downing Drive and Chatteris Avenue.
The extent of the amended proposal can be seen on the plan over the page. Further details with timescales for the start of the experiment, will be sent out in April/May 2022.
If you have any queries, please email saferhealthierstreets@leicester.gov.uk
EvingtonWest-SSHN 12 (PDF, 272 KB)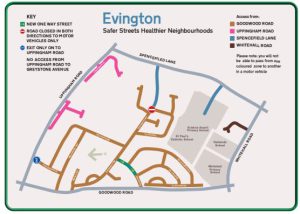 Evington West Map (PDF, 272 KB)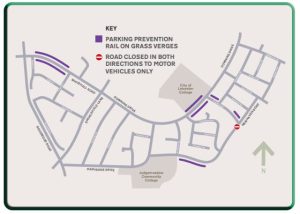 24/06/2022 1:37pm
Pre-driver Days are back for 2022! 9th August 2022 15th August 2022 17th October 2022 18th October 2022 @ Mallory Park Book through Eventbrite: eventbrite.co.uk/e/pre-driver-d… For further information please visit: tjunction.org.uk

24/06/2022 10:36am
For the next few hours are down at Glenfield Hospital with @SustransEMids 🚴‍♀️ and @leicspolice🚓. Come down and say hello and get a FREE bike checkup and a FREE bike marking. We Look forward to seeing you!🚲🚨

23/06/2022 10:01am
Remember, the best way to plan journeys by cycle, bike-share, walking and bus within Leicester and Leicestershire is the Choose How You Move Journey Planner. Try it out at choosehowyoumove.co.uk/journeyplanner, or search "Choose How You Move" in your app store!

16/06/2022 1:23pm
Don't forget to send a photograph of yourself holding one of the pledge cards available at cleanairday.org.uk Then post it on Twitter or Instagram using the hashtag #CleanAirDay tag @CHYM to be entered into a prize draw to win a goody bag 🚶‍♀️🚶🚴‍♀️🚴‍♂️

16/06/2022 10:23am
Onto some cycle training! 🚲

Changing habits for a changing world