Cleaner air around Herrick Primary school
Cleaner air around Herrick Primary school
Action one: School Street road closure
School street closure between 8-9am and 2-4.30pm on Lockerbie Avenue between Gleneagles Avenue and the junction with Dalkeith Road, during term time only.
Objectives: Reduce air pollution close to the school gates, reduce car numbers and improve road safety to encourage walking, scooting and cycling to school.
Action two: Switch off your engine for cleaner air (anti-idling) campaign
Idling vehicles outside of schools is recognised as one of the biggest contributors to air pollution around schools. 
The 'Switch off your engine for cleaner air' campaign encourages vehicle owners to avoid engine idling (leaving the engine running while a vehicle is parked or waiting), when dropping off or waiting for pupils to finish school.
Objective: Reduce vehicle emissions and tackle unnecessary pollution.
Find out more about the Switch off your engine for cleaner air campaign [link to LCC page? https://www.leicester.gov.uk/your-council/policies-plans-and-strategies/environment-and-sustainability/air-quality/switch-off-your-engine-for-cleaner-air/]
Action three: No vehicle idling road signs
Anti-idling signage has been designed as part of the campaign to encourage drivers to switch off their engines for cleaner air. The signage is initially being displayed in Rushey Mead where vehicles have been observed idling to improve air quality.
Objective: Reduce idling and improve air quality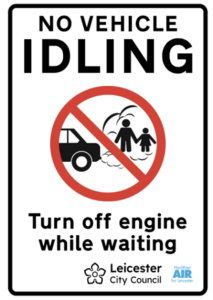 Action four: walk to school projects and activities
See Travel to School and Activities in school, for more details.