Leicester City Businesses
Leicester City Businesses
The Active Travel Team supports city businesses, who recognise the health, environmental and financial benefits of encouraging their staff to make commute and in-work journeys by active and sustainable transport, by offering a number of free initiatives. 
Our process 

After a short telephone or video consultation to help us identify your business' needs, we will create a quick travel survey for your employees to determine the barriers that they face to walking or cycling to work. From this survey we will be also be able to plot employee postcodes to show how many employees could potentially commute by foot or bike. If necessary, an audit of your premises can be conducted by our team to identify improvements in infrastructure and facilities, which could be made to your site to make it easier for your staff to walk or cycle to work.
Wheels to Work 
Leicester City Council operate the Wheels to Work scheme, which is a low-cost loan of pedal/electric bikes and electric mopeds to those who are struggling to get to work due to transport barriers. 
The vehicle loan is typically over a period of 6 months, giving the participant enough time to make their own transport arrangements to their place of work. To find out more about participation criteria, costs and to apply, please visit www.choosehowyoumove.co.uk/cycling/wheels-to-work/ Your business could recommend this scheme to employees who previously used public transport to get to work or to those employees who want to try cycling to work.
Planning your journey to work 
We understand that staff may be walking or cycling to work for the first time. To help staff plan their route to work, we recommend they use the journey planner on the Choose How You Move website, cycle.travel or Google Maps to find the best available option. If staff are still unable to find a suitable route, then they can contact the team and we will be happy to help them to plan their walking or cycling commute.
Communications Package 
In order to better respond to the new work-from-home paradigm created as a result of the pandemic, we recognise that an organisation's communications with it's staff have become increasingly more important. In response to this, we have a created the Active Travel Toolkit, a collection of resources, ready and waiting for leaders, HR professionals, or active travel advocates to share with colleagues and staff through their own communication channels, without commuting resources and staff time to gathering the content.
The toolkit includes:
Articles about travelling and commuting actively
Inspiration for staff to incorporate active travel behaviours into their day
Case studies
Top tips for walking and cycling
To receive the active travel toolkit, which is updated on a seasonal basis, please email choosehowyoumove@leicester.gov.uk
BetterPoints 
Staff can earn and win points for walking and cycling to work and when making other journeys using the free BetterPoints app. These points can be spent locally (in the form of retail vouchers and discounts) or donated to local or national charities. BetterPoints is a fun and engaging way to support your employees with their physical health and mental wellbeing.
BetterPoints user Nusrat decided to take part in the Choose How You Move BetterPoints challenge: 'I felt that I needed to make some lifestyle changes and the BetterPoints app was the best motivation as it felt good to be rewarded for making healthy choices.' 
To download the free app, visit choosehowyoumove.co.uk/betterpoints/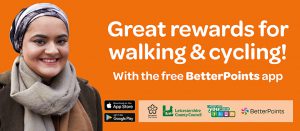 Other
The Green Commute Initiative Cycle to Work Scheme 
A new salary sacrifice scheme perfect for electric bikes. It offers up to 42% savings on bikes for staff as part of the Government's Green Transport plan and there are no end-of-contract financial penalties for the buyer. For more information visit greencommuteinitiaitve.uk. 
Travel Plans 
Leicester City Council provide free help and guidance on the various elements of voluntary travel plans, which are site specific and practical to each organisation. For more information, visit leicester.gov.uk/transport-and-streets/travel-plans-in-leicester. 
Bicycle User Group 
Assistance is available to help your business set up a Bicycle User Group (BUG). BUGs support staff who cycle for and/or to and from work. 
Contact us 
Hannah May 

Transport Development Officer (Programmes) 

Email: hannah.may@leicester.gov.uk

Tel: 0116 4542817

Harvey Blundell 

Assistant Transport Development Officer 

Email: harvey.blundell@leicester.gov.uk

Tel: 0116 4542071

Lydia Ison 

Assistant Transport Development Officer

Email: lydia.ison@leicester.gov.uk

0116 4543057

24/06/2022 1:37pm
Pre-driver Days are back for 2022! 9th August 2022 15th August 2022 17th October 2022 18th October 2022 @ Mallory Park Book through Eventbrite: eventbrite.co.uk/e/pre-driver-d… For further information please visit: tjunction.org.uk

24/06/2022 10:36am
For the next few hours are down at Glenfield Hospital with @SustransEMids 🚴‍♀️ and @leicspolice🚓. Come down and say hello and get a FREE bike checkup and a FREE bike marking. We Look forward to seeing you!🚲🚨

23/06/2022 10:01am
Remember, the best way to plan journeys by cycle, bike-share, walking and bus within Leicester and Leicestershire is the Choose How You Move Journey Planner. Try it out at choosehowyoumove.co.uk/journeyplanner, or search "Choose How You Move" in your app store!

16/06/2022 1:23pm
Don't forget to send a photograph of yourself holding one of the pledge cards available at cleanairday.org.uk Then post it on Twitter or Instagram using the hashtag #CleanAirDay tag @CHYM to be entered into a prize draw to win a goody bag 🚶‍♀️🚶🚴‍♀️🚴‍♂️

16/06/2022 10:23am
Onto some cycle training! 🚲

Changing habits for a changing world