Leicester City Council Group Walks
Leicester City Council Group Walks

Walk Leicester – Discovery Walks
Leicester City Council provide short group Discovery Walks in the city of up to 90 minutes which are suitable for most abilities and led by friendly Walk Leaders. Explore different areas of Leicester and discover the variety of places to walk near you.  Walks include city streets, parks and green spaces, waterways and residential areas. Some walks are themed and include a little information about the features of interest we pass along the way. Other walks are simply a pleasant social stroll through Leicester. Step out with us and discover how walkable the city really is.
How do I attend?
Visit our events page for more information about our range of Discovery walks.  Walks are free to attend but there are limited places so please book to secure a place. See our relevant walks events for details and information about how to book. If a walk is fully booked do check Eventbrite (or phone 0116 373 7589) 1-2 days prior to the walk. If we've had a last-minute cancellation a place may have become available.
Families
Children may attend our walks if they are accompanied by an adult. Child places do not need to be booked, but adults should book a place. If you are bringing a buggy, please contact us first to check the route is suitable.
Travel to group walks
All our walks start from city locations which can be reached on foot, by bike or by bus. Check out the Journey Planner tool to help plan your journey via different modes of travel.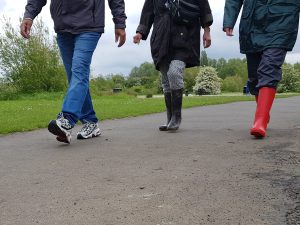 Pace and distance
Our friendly walks are led at either a steady or medium pace and are suitable for most abilities. Walks last between 30 – 90 minutes, covering distances of between 1 – 4 miles (with most around 2 miles). We are focused on offering achievable short walks for the general public that fit easily into people's day. During some walks we pause for a little information at interesting places along the route.  The details of each walk are listed on our events page. 
Steady pace walks are suitable for those who are new to walking and/or those who enjoy walking at a leisurely place. 
Medium pace walks are a little quicker and suitable for those who like to step out a little more, but our walks are never fast and we won't leave anyone behind.
If you are looking for a more challenging group walk, please enquire with other walking groups (including the Ramblers) who may offer something suitable.
Accessible walks
If you are looking for an accessible walk (for a wheelchair user or those with prams/buggies) please contact us in advance to discuss your needs and consider whether a particular walk will be suitable.
Dogs
The wellbeing of walkers is our priority. Walkers may bring their dog along providing it is well-behaved and kept on a short lead throughout (extendable leads present a trip hazard to other walkers). Please be mindful that some walkers may be nervous of dogs and we kindly ask that you allow others space so that everyone can enjoy the group walk experience. Some walks are urban trails rather than green walks, so do consider the details of each walk carefully.
The Weather
Our walks usually go ahead come rain or shine. However, for the safety and comfort of our walkers we may occasionally cancel a walk if we consider the weather conditions to be dangerous or extremely unpleasant for walkers. If the weather is in doubt, please check the relevant webpage for the walk. At the latest a decision will be posted by 9.30am on the morning of a walk, so please do check before you travel to avoid a wasted journey.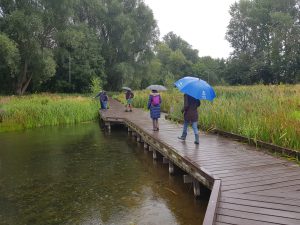 What to wear/bring
No special equipment is required for our walks but do dress appropriately for the weather. 
Bring a waterproof jacket or umbrella in case of rain
Wear comfortable, sturdy footwear
Wear warm layers for winter weather
Cool clothing, hat and sunscreen for warmer weather
Bring a bottle of water
New Walkers
If you are new to our group walks we'll ask you to complete our online Walker Registration form before the walk. You will receive an email reminder a few days before the walk you've booked. The email includes a link to the Walker Registration form. You only need to complete this for your first walk and can join any walk thereafter, subject to booking a place. If you have booked for a new guest, please ask them to complete the form (unless your guest is a child under 16 years of age – children do not need to complete the form).  If you have difficulty with the online form, please contact us to complete it over the phone with staff. Paper copies of the new Walker Registration form will be available at the walk but online is preferred if possible, to speed up registration. If you have attended our walks before and completed a registration form, you do not need to do one again.
Safety during Covid-19
Please help us keep walks as safe as possible. We kindly remind walkers to respect other people's space, as some walkers may still feel more comfortable maintaining social distancing. Please do not attend the walk if you develop symptoms of Covid-19. Please follow the latest Government guidance on getting a Covid-19 test.
Contact us
We are contactable during office hours, Monday – Friday (9am – 5pm)
T: 0116 373 7589 
E: choosehowyoumove@leicester.gov.uk
Live Well Walk More – Health Walks
If you are looking for a health and wellbeing walk consider Live Well Walk More. These steady walks are offered by Leicester City Council's Live Well team and provide health walks aimed at people who currently do little or no exercise, and for those who enjoy a short social walk to keep active. The focus is on improving physical and mental health, reducing social isolation and on general wellbeing. To find out details contact the Live Well Team (Monday – Friday, 9am – 5pm). 
T: 0116 454 4000
Email livewell@leicester.gov.uk
Live Well website