Leicester's Cycling Tube Map
Leicester's Cycling Tube Map
This is Leicester's very own London-style Tube Map of new and existing cycle routes in the city. The map uses different coloured routes to set out the main cycle paths connecting key residential and employment areas of the city, to Leicester city centre. This map presents existing and new pop-up cycle tracks, which can be identified using the map key. 
Around 11 miles of pop-up cycle routes have been installed over a 10 week programme as part of Leicester City Council's Covid-19 Transport Recovery Plan. These new routes provide commuters with safer, wider, segregated cycle lanes as an alternative to using public transport, and also to encourage more people to use sustainable forms of transport. 
At the centre of the new map is Leicester's Town Hall Bike Park, and each route is marked with approximate travelling time between important locations along the route. Read more or see a full list of new pop-up lanes.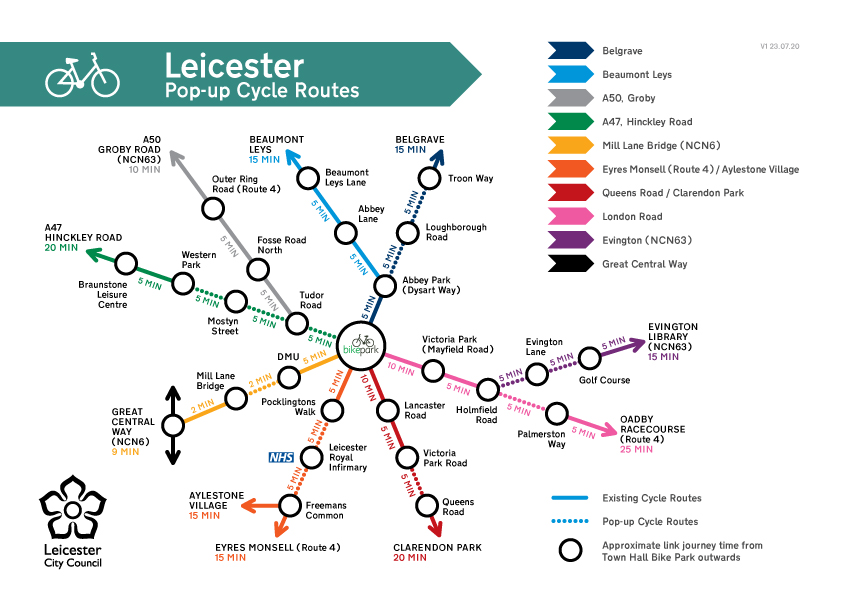 24/10/2020 9:45am
Could you walk, cycle or scoot to school or work? Active travel is a great way to start the day and good for your mental and physical wellbeing! Find out more at crowd.in/qhWVef #backtoschool

23/10/2020 1:43pm
As children get ready to return to school after half term, help keep Leicestershire moving by walking, cycling or scooting if possible 🚴‍♂️🚶‍🛴. For tips on making your journey to school easier, visit crowd.in/yHhtff #backtoschool #activeleicestershire

23/10/2020 10:44am
Have you heard about our #Wheels2Work scheme? 🚴‍♀️🚴‍♂️ Just like Charlotte and Joshua here, you could hire an #ebike for just £45 per month, to help you get to work. You can also opt into the Loan to Own option. Find out more on our website: choosehowyoumove.co.uk/cycling/wheels…

23/10/2020 9:30am
'I was determined to make the change and commute to my new job by bike. I'm very happy to say being stuck in traffic and trying to find parking is now a thing of the past!' - Sarah M, Leicester Read the story of Sarah's @BetterPoints journey here: choosehowyoumove.betterpoints.uk/page/pop-up-la…

23/10/2020 7:49am
The active travel free bike check event planned for today at Welland Park in Market Harborough has unfortunately had to be cancelled. We're planning more events to support your sustainable travel, so please watch this space!

Changing habits for a changing world