Clean Air Clive's Walking tour of Leicester
Clean Air Clive's Walking tour of Leicester
Join Clean Air Clive for a discovery voyage on foot! See the streets of Leicester through the eyes of a puppet, explore places you may have never seen before, and have fun trying out some activities too.
Clean Air Clive has visited 12 iconic Leicester City locations recently, and liked them so much he wanted to encourage as many children and grown-ups as possible to try and find them.
To help you on your trail, you'll need to download and print, or view from your tablet or smartphone:
Use this map to help you find Clean Air Clive's selfie spots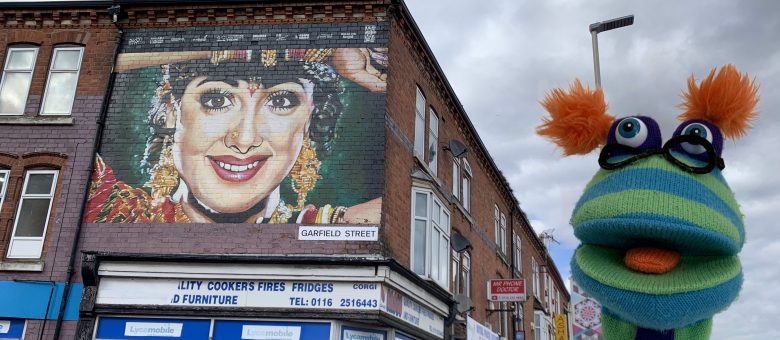 Clean Air Clive's Walking tour of Leicester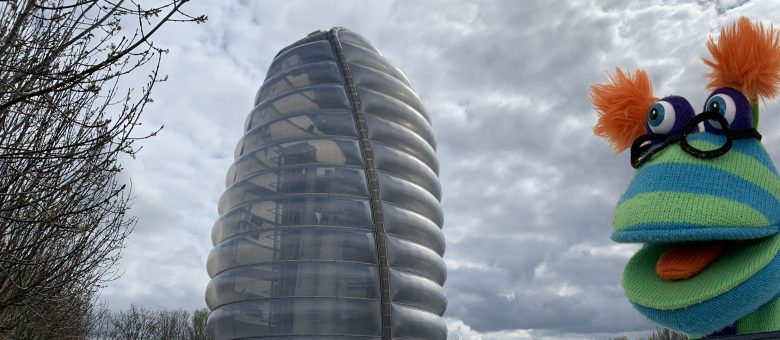 Clean Air Clive's Walking tour of Leicester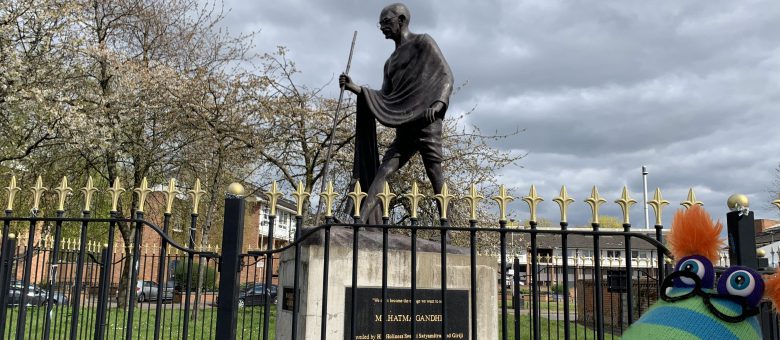 Clean Air Clive's Walking tour of Leicester
Some hints and tips 
You don't need to visit each location all in one day, take your time and enjoy exploring the city. 
Be safe – always go with an adult, remember your road safety skills (watch this reminder video from Sustrans), don't use tablets or smartphones to look at the resources when you are crossing roads. 
Prepare to be out and about – wear weather appropriate clothing and footwear, take some food and drinks. 
Be aware of the sun – wear hats and sun protection if it's a particularly warm day. 
If you need help working out how to get to Clean Air Clive's selfie spots use the Choose How You Move Journey Planner. 
Clean Air Clive's Cheat Sheet 

If you are struggling to find Clean Air Clive's selfie spots, check Clean Air Clive's Cheat Sheet. 

Location number
Description
Activity
1

Bollywood star Rekha Madhubala Sridevi mural, Garfield Street, Belgrave Road 

Can you find another hidden mural on Garfield street?
2

Mahatma Ghandi Statue, Belgrave Road 

Keep walking, can you find Cossington Park?
3
Abbey Pumping Station, Corporation Road
Pretend to be a bus driver in the play area
4
Abbey Park, Abbey Park Road
Spot as many different birds as you can
5
National Space Centre, Exploration Drive
Walk like an astronaut on the moon
6
Belgrave Hall Museum, Church Road
Can you find a white door?
7
Spinney Hill Park, East Park Road
Find the cricket pitch
8
Curve Theatre, Rutland Street
Can you find the rat on the wall, on Rutland Street?
9
Leicester Museum & Art Gallery, New Walk
Stomp along New Walk like a dinosaur!
10
Leicester Cathedral Gardens, Peacock Lane
Gallop around the gardens like King Richard III on horseback
11
Leicester Market, Market Place South 
Find the strangest fruit or vegetable
12
Leicester Castle, Castle View
Find Leicester's Castle Motte and climb to the top

24/06/2022 1:37pm
Pre-driver Days are back for 2022! 9th August 2022 15th August 2022 17th October 2022 18th October 2022 @ Mallory Park Book through Eventbrite: eventbrite.co.uk/e/pre-driver-d… For further information please visit: tjunction.org.uk

24/06/2022 10:36am
For the next few hours are down at Glenfield Hospital with @SustransEMids 🚴‍♀️ and @leicspolice🚓. Come down and say hello and get a FREE bike checkup and a FREE bike marking. We Look forward to seeing you!🚲🚨

23/06/2022 10:01am
Remember, the best way to plan journeys by cycle, bike-share, walking and bus within Leicester and Leicestershire is the Choose How You Move Journey Planner. Try it out at choosehowyoumove.co.uk/journeyplanner, or search "Choose How You Move" in your app store!

16/06/2022 1:23pm
Don't forget to send a photograph of yourself holding one of the pledge cards available at cleanairday.org.uk Then post it on Twitter or Instagram using the hashtag #CleanAirDay tag @CHYM to be entered into a prize draw to win a goody bag 🚶‍♀️🚶🚴‍♀️🚴‍♂️

16/06/2022 10:23am
Onto some cycle training! 🚲

Changing habits for a changing world