Walk Leicester Festival 2021 Archived Page
Walk Leicester Festival 2021 Archived Page

Walk Leicester returns in May 2021 with an exciting programme of digital walks to celebrate National Walking Month.
Working in collaboration with partner organisations, we intend to give you more than a good excuse to get out there and experience Leicester by foot!
Follow us on Facebook or Twitter, or subscribe to the Walk Leicester Newsletter to keep up to date with Walk Leicester 2021 news, alongside more resources to help you travel actively!

To help us celebrate National Walking Month, and the Walk Leicester Festival, BetterPoints have boosted BetterTickets and Points for those participating in the Walk Leicester Festival! Earn high-street vouchers, or donate cash to charity by walking over half a mile, or walking any of the routes below. Download the BetterPoints app, or visit the BetterPoints website to find out more! 


A wide variety of digital and audio-guided walks to inspire you to get out on two feet.
Audio walks are indicated by the 🔊 symbol.


To celebrate Walk Leicester Festival 2021 take a look at our fun and engaging activities to keep you and your family strolling through May. We have brought together a range of walking activities for you to choose from, for all the family to enjoy.  
Clean Air Clive's Walking Tour of Leicester 

Join Clean Air Clive for a discovery voyage on foot! See the streets of Leicester through the eyes of a puppet, explore places you may have never seen before, and have fun trying out some activities too.
Click here to take part in Clean Air Clive's Walking Tour of Leicester 
Living Streets #Walk From Home
Walking with your family has never been more FUN! Living Streets have created 14 sets of colourful and educational walking activities to support children in their learning while staying active. Activity sheets include I Spy, On my walk I saw, Scavenger Hunt and much more for you to take part in from your doorstep! To access the activity sheets take a look at the family resource booklet and the Family I Spy Sheet (PDF, 170 KB). 
May is Living Streets' National Walking Month, to find out more information head over to Living Streets' National Walking Month Webpage and take a look at their Try20 tips to help you fit 20 minutes of walking into your day.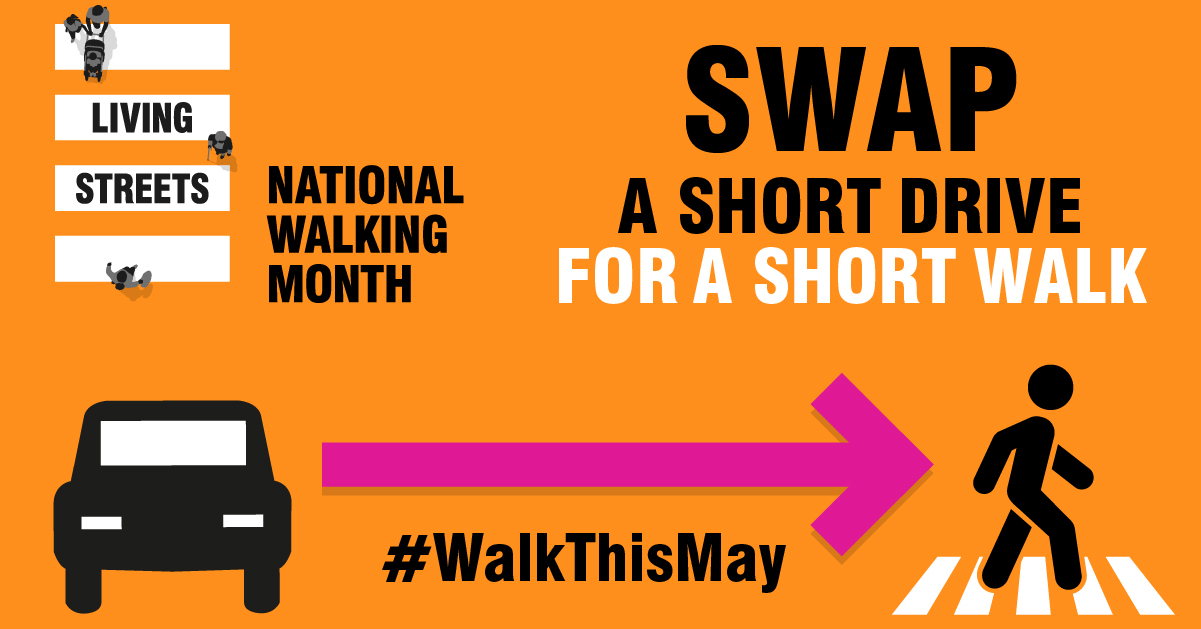 Have a go at our fun quiz trails ideal for adults and children, taking you through Clarendon Park, Castle Gardens and Leicester's West End to discover more about the city we love.
Walk to School Week 
Living Streets five-day walking challenge is back, 17-21 May 2021! Aimed at primary schools, Walk to School Week is a fun and engaging week-long challenge, raising awareness and celebrating walking for all. Walking to school can provide the following benefits to you and your child:  
Quality family time. The chance to connect at the start and end of the day. 

Using the car less reduces emissions and can help improve air quality. 

Daily exercise. Walking to school is a great way for all the family to be active, starting your day on a positive.  

 
Take the opportunity to celebrate these benefits by walking to school this week!